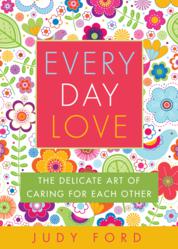 (PRWEB) January 23, 2013
Every year people go on the hunt for the perfect Valentine's Day gift for their special someones, including spouses, girlfriends, and children. Some lucky people have very long Valentine's Day lists. An audio book is one of the most unique and thoughtful ways to show affection. Viva Editions has the books of love for listening to while commuting or ferrying teenagers to soccer practice, doing housework, or having some personal time. Remember, Valentine's Day should be about self-love, too.
Every Day Love: The Delicate Art of Caring for Each Other
By Judy Ford
Within these pages, for the first time, Judy Ford presents her field-tested "love lessons" mined from private practice and workshops to help readers build and preserve successful relationships.
Buy the audio book here.
Words of Love: Quotations from the Heart
By Allen Klein
Words of Love is filled with best things ever said on matters of the heart. A veritable book of love, this collection of over 500 bons mots features the wit, wisdom and insight of everyone from Sophocles to Cher.
Better Than Great: A Plenitudinous Compendium of Wallopingly Fresh Superlatives
By Arthur Plotnik
Say goodbye to "awesome" and "amazing" and say hello to Better Than Great, a veritable TKO of stale superlatives with almost 6,000 alternative terms.
Wordcatcher: An Odyssey into the World of Weird and Wonderful Words
By Phil Cousineau
It takes a special wordcatcher to create a treasure chest of remarkable words and their origins, and any word lover will relish the stories that Cousineau has discovered.