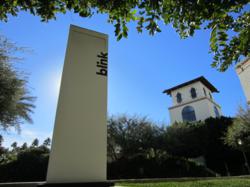 By being the first resort in Phoenix to install charging stations, we are not only doing what is right from an environmentally conscious standpoint, but also offering our guests and the general public a unique and convenient service.
(PRWEB) January 23, 2013
The Arizona Grand Resort & Spa is proud to announce the addition of new electric vehicle charging stations, making it the first and only resort in Phoenix to offer EV units for guests and the community. The seven Blink Pedestal charging stations were provided as part of the Resort's partnership with ECOtality, Inc., a company specializing in clean electric transportation and storage technologies, and are an evolution of the Resort's ongoing commitment to environmental responsibility.
The EV charging stations are prominently placed in two highly visible, high-traffic locations on property for guests and employees to charge their electric vehicles. Easy to use, drivers pull into a designated parking spot, swipe their Blink InCard, plug the charger into the EV, then relax and enjoy the Resort's many amenities while the vehicle charges, including the seven-acre Oasis Water Park, 18-hole Arizona Grand Golf Course, six unique dining venues and the full service Arizona Grand Athletic Club & Spa.
"As a hotel owner with a diverse and distinct portfolio of properties, we're always striving to provide a first-rate and memorable experience for our guests" said Jake Gray, sustainability analyst for Grossman Company Properties, which owns and operates the Resort. "By being the first resort in the Phoenix area to install the electrical vehicle charging stations, we feel we are not only doing what is right and responsible from an environmentally conscious standpoint, but also offering our guests and the general public a unique and convenient service that they can utilize and enjoy while visiting the Arizona Grand Resort."
Arizona Grand Resort & Spa is committed to environmental responsibility and sustainability guided by a partnership with the Arizona Hotel and Lodging Association Green Certification. Under the direction of an in-house sustainability manager, the resort has integrated green practices to reduce the environmental impact of its business, including:
ENVIRONMENTAL MEASURES

Partnering with SRP's PowerWise Retrocommisioning Solutions program to evaluate electric energy-using systems and implement measures resulting in more efficient and reduced electrical consumption.
All resort laundry, including terry items and linens are laundered using environmentally-sensitive practices by a textile company with U.S. Green Building Council's Leadership in Energy and Environmental Design (LEED) certification.
Frylow system in resort kitchen allows for reduced energy use, less product waste, and healthier fried foods.
Baler allows for 100% of resorts' cardboard waste to be compacted and recycled
Water savings options for sheets and towels in guest suites
Sponsor of Arizona Republic "Green Hero" contest, Fall 2008
Compact Flourescent Light (CFL) in guest suites
Energy efficient in-suite digital thermostats
Balcony planters use water harvesting technology
Swimming pool technology reduces water evaporation
Low-flow shower heads
Arizona Rinse Smart participant, a Salt River Project
Purchase locally grown, organic foods and condiments in bulk
Recycled in-suite amenities including bottles, cartons and labels
Printed materials contain 10% post consumer waste on Forest Stewardship Council certified paper
Organic spa products are packaged and shipped environmentally friendly; Spa slippers made from recycled PVC
Environmentally responsible, certified green cleaning products for guest suites and public areas
Organic fertilizers used on the golf course
GreenUp biodegradable trash can liners are used throughout the resort
For more information, please visit the Arizona Grand Resort & Spa website or call (602) 438-9000. Follow the Resort on Twitter and became a fan on Facebook.
About ECOtality
ECOtality is the project manager of The EV Project, a public-private partnership funded in part by a federal stimulus grant from the U.S. Department of Energy made possible by the American Recovery and Reinvestment Act (ARRA) to provide the necessary infrastructure to support the deployment of EVs. ECOtality is overseeing the installation of approximately 14,000 commercial and residential charging stations in 18 cities and major metropolitan areas in six states and the District of Columbia. http://www.ecotality.com
About Arizona Grand Resort & Spa
Arizona Grand Resort & Spa is located on 164-beautifully landscaped acres at the base of the spectacular South Mountain Preserve and boasts 640 residential-style suites and 100 luxury Villa accommodations. The AAA Four Diamond rated resort completed a $52 million redesign to enhance the property including all guest suites, main lobby, spa, golf course and restaurants.
Arizona Grand Resort & Spa offers the 7-acre Oasis Water Park, a challenging 18-hole golf course, six unique dining venues, the full service Arizona Grand Athletic Club & Spa and 117,000 square feet of meeting and function space, including a 20,000-square-foot exhibit pavilion.
Arizona Grand Resort & Spa is managed by Classic Hotels & Resorts (CHR), an affiliate of Grossman Company Properties (GCP). GCP is one of the premier commercial and residential developers in the western United States. During the past 50 years, GCP has built, developed and managed more than 14 million square feet of high-quality properties, including Arizona Biltmore Resort & Spa, Biltmore Fashion Park, Inn at Laguna Beach and the Phoenix Spectrum Mall. Additional information is available at http://www.ArizonaGrandResort.com, http://www.ClassicHotels.com and http://www.GrossmanCompany.com.