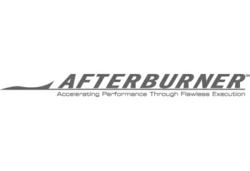 Atlanta, GA (PRWEB) January 23, 2013
The global management training firm, Afterburner, facilitated a comprehensive training on its prolific Flawless Healthcare® model for the biotechnology leader, Genentech, in San Francisco. The workshop was part of an ongoing program between Genentech and Afterburner, and featured two days of Flawless Healthcare® training combined with Planning Workshops that reinforced the process through experiential learning.
As the founder of the biotechnology industry, Genentech has led the field for more than 30 years. A subsidiary of the Roche Group, the company uses genetic information to discover, develop, manufacture, and commercialize today's leading medical treatments in its efforts to enhance the quality of life. Afterburner's comprehensive training will help staff improve safety and efficiency by implementing a zero-tolerance-for-error environment while facilitating increased communication—improvements that will directly result in improved patient safety and organizational efficiency.
A healthcare-centric approach to the firm's founding Flawless Execution® model, the Flawless Healthcare® model is a combination of combat-derived strategy and a holistic, communication-based approach that allows for comprehensive risk management, in and out of the operating room. Unlike any other approach, this model helps to align daily objectives with an organization's overall brand mission. With an incomparable concept that acknowledges the sensitive and evolving nature of the healthcare industry, Afterburner's model has helped today's leading healthcare providers develop strategies that facilitate improved communication and efficiency.
Both events were led by Jim "Boots" Demarest, a retired F-15 Instructor Pilot and Mission Commander. He was assisted by John "Hitman" Hilterman, F/A-18 Fighter Pilot, Greg "Stubby" Stubs, F-14 and F/A-18 Fighter Pilot, as well as Charles "Chaz" Campbell, Brigadier General (ret.) and current director of Afterburner University®. The management consultants introduced the firm's continuous improvement process of Plan. Brief. Execute. Debrief.sm to Genentech attendees during a dynamic, multi-media seminar, followed by a series of workshop objectives that allowed Genentech staff to implement the newly acquired skills in real world circumstances. This results-centric training, in conjunction with the Flawless Execution model's unprecedented approach, guarantees tactical and strategic alignment in an ever-changing healthcare industry.
To learn more about Afterburner's innovative approach to professional development and strategy, visit http://www.afterburnerseminars.com or call (404)-835-3500.
About Afterburner
Afterburner, Inc., founded in 1996 by U.S. Air Force fighter pilot Jim "Murph" Murphy, trains organizations around the world in the simple, scalable improvement processes of Flawless Execution, which encompasses the Three E's—Empower, Equip, and Embed. With a client list that includes over 30% of the U.S. Fortune 500, Afterburner was among Inc. Magazine's "Inc. 500 List of America's Fastest Growing Companies" and has been featured in the Wall Street Journal, Business Week, Financial Times, Newsweek, and Meetings and Conventions Magazine. Afterburner has also appeared on CNN, CNBC, Fox News, and Bloomberg News. For information on Afterburner's innovative Flawless Execution Model©, please visit http://www.AfterburnerConsulting.com.
About Genentech
Founded more than 30 years ago, Genentech is a leading biotechnology company that discovers, develops, manufactures and commercializes medicines to treat patients with serious or life-threatening medical conditions. The company, a member of the Roche Group, has headquarters in South San Francisco, California. For additional information about the company, please visit http://www.gene.com.