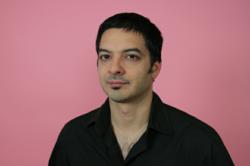 Creating chemistry between a guy attempting to seduce women and a girl is all about body language and the art of sensual touch - or "kino".
San Mateo, CA (PRWEB) January 31, 2013
Guys who are studying how to seduce women think they need to learn some special way to massage a girl or learn how to be better kissers, but the art of seduction has more to do with influencing a girl's emotions, says Dating Expert Carlos Xuma in his new report.
"Seduction is mainly a cerebral game," Xuma says. "Innate physical chemistry can't be ignored but it also can be created, which many guys don't realize."
According to Xuma, creating chemistry between a guy and a girl is all about body language and the art of sensual touch — or "kino".
"Most guys don't realize that by the time they are alone with a girl in a bedroom or something, the heavy part of seduction is long over," Xuma says. "In other words, all the groundwork must have been laid up until that point for a guy to truly be successful in seducing a woman."
Seduction involves building attraction from the first minute the guy meets a girl and then it is important to make sure that attraction is continually escalating until there is a moment when the two have a chance at intimacy, Xuma says.
"The first step a guy who wants to learn to seduce women should do is study a book on body language," Xuma says. "That accomplishes two things: The guy learns how to read a girls' body language and see if what he is saying and doing is repelling or attracting her, which is very important. The second thing studying a book on body language will do is give the guy skills to make sure everything about his own body language is being used to seduce and not turn someone off."
For instance, Xuma says, something as simple as the way a guy stands can increase attraction; the way a guy looks at a woman can mean the difference between successful seduction and failure, he says.
"The second step a guy can take is to study kino, which is the art of touching in a way that allows a guy to seduce women," Xuma says. "There are really specific ways to touch a woman to build attraction. Kino also helps guys learn when and how to first touch a woman if they want to seduce her."
Xuma assures that these essential tricks of seduction may take a little bit of time and effort to learn, but are always worth it, and almost always pays off.
Carlos Xuma also been a dating expert and attraction adviser for more than 10 years and has appeared on ABC and CBS television, as well as Playboy radio. He is the author of The Bad Boy Formula, Secrets of the Alpha Male, the Girlfriend Training Program, and numerous other books and articles. He has spent years teaching hundreds of men flirting tips for guys, including how to seduce women, and how to talk to talk to women through his website, http://www.carlosxuma.com.
For more information, visit Carlos Xuma's website at http://www.datingdynamics.com.