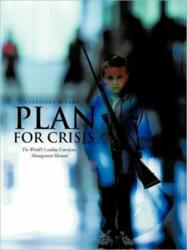 "The time for change is now, before any more children perish at the hands of flawed safety policy."
Deerfield Beach, FL (PRWEB) January 23, 2013
As yet another school shooting at the North Harris campus of Lone Star College in Houston occurred yesterday, the time to act on safety policy issues is now. Contrary to what many would believe, school shootings are tragically not a new problem. School shootings have become common place throughout the US, which has increased the death toll in classrooms over the years. "The time for change is now, before any more children perish at the hands of flawed safety policy." said the author of Plan For Crisis, the world's leading emergency manual for schools and CEO of WMX Group Holdings, Inc. (OTCQB:WMXG), Thomas Anthony Guerriero.
Guerriero, has suggested to the Obama Administration to pass new strict legislation to establish mandatory safety audits and customized emergency response protocols. In addition to having the crisis systems and procedures in place Guerriero advocates the importance of having bullet proof windows and doors installed in every school to protect against this from ever happening again. Until then, proper cautionary legislation must be established to protect the future of the country.
Safe Harbor for Forward-Looking Statements
This press release contains forward-looking statements within the meaning of Section 27A of the Securities Act of 1933, as amended, and section 21B of the Securities and Exchange Act of 1934, as amended. Readers are cautioned not place undue reliance on these forward-looking statements, which are only predictions and only speak as of the date hereof. Forward-looking statements usually contain the words "estimate," "anticipate," "believe," "plan," "expect," or similar expressions and are subject to numerous known and unknown risks and uncertainties. These risks and uncertainties could cause the Company's actual results to differ materially those indicated in the forward-looking statements.
Investors are encouraged to carefully review regulatory filings prior to investment consideration. Past performance is no guarantee of future success or that there cannot be losses or business interruption. The Company is in a rapid growth sector that may or may not continue to grow in the future and therefore poses risks that may be different than other investments. Management regularly provides news and additional information believed to be true and accurate at the time of dissemination but has no requirement to modify, comment or change in the future should circumstance change or information prove to be inaccurate for any reason. Additionally, the Company makes every effort to comply with all applicable laws.