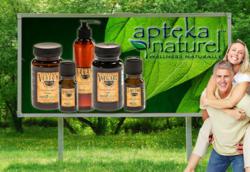 The Tranquility Naturel Dietary Supplement for Anti-Stress Support is based on more than 300 years of published South African indigenous usage and history as well as modern scientific research.
(PRWEB) January 23, 2013
The Apteka Naturel web store today launched its newest offering: its Tranquility Naturel™ Dietary Supplement for Anti-Stress Support, a product based on more than 300 years of published South African indigenous usage and history as well as modern scientific research. This is one of the very first products of its kind to make its appearance in the United States.
Tranquility Naturel is based on its main active ingredient, Zembrin®, a patented ingredient derived from the unique Sceletium tortuosum herb, exclusive to South Africa. Modern doctors, psychologists, and psychiatrists have reported success in using Zembrin® to reduce stress and tension, increase calmness, support a positive mood, and promote a general sense of well being. A partial list of other possible benefits include reduced fatigue, enhanced cognitive abilities, improved mental focus and clarity, and more restful sleep.
In the spirit of Apteka Naturel's model of supporting ecological initiatives, Zembrin® is fully supported by the South African government for the brand's ecologically sustainable and socially responsible practices, including indigenous benefit-sharing. Zembrin® is based entirely on cultivated plant material using proprietary seeds from the company's own plant selection, vertically integrated from seed to extract.
Read more about remarkable Tranquility Naturel at AptekaNaturel.com.
Zembrin® is a registered trademark of HG&H Pharmaceuticals (Pty) Ltd.
About Apteka Naturel
Apteka Naturel is an international joint venture founded by a team of Russian and American entrepreneurs. The name itself translates to "natural apothecary," which is the basic tenet of the company. It is not our intention to carry thousands of products as would a big box chain of vitamin or supplement stores. At Apteka Naturel, we carefully hand-pick the best of the best natural products, many of which contain exotic ingredients from the far reaches of the planet—Nepal, East India, Siberia, the Amazon Rainforest, and Vietnam. Our unique supplements are often breakthroughs, such as our Cardio Naturel™ Heart Health Supplement, the first genuine product of its kind in the United States. We believe in preserving Mother Earth and contribute a portion of our proceeds to green-initiative projects around the world.
For more information, visit AptekaNaturel.com or contact Neil Evans, Marketing/Operations, at (866) APTEKA1, Ext. 4, or nevans(at)aptekanaturel(dot)com.