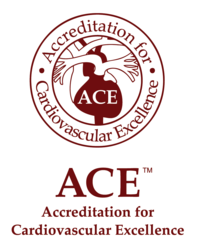 Our market is very competitive. We can advertise our accreditation credentials which other hospitals locally cannot. We feel this gives us a competitive edge.

Paul Kleist, MD, FACC, Chair Quality Assurance, Forbes Regional Hospital
Washington, DC (PRWEB) January 23, 2013
In this month's issue of Cath Lab Digest, Dan Oslowski, RN, BSN, Cardiac Cath Lab Manager and Carrie O'Leary, RN, MSN of the Cardiac Catheterization Labs at Forbes Regional Hospital in Monroeville, Pennsylvania, detail the accreditation process and their current provisional accreditation status with the Accreditation for Cardiovascular Excellence (ACE).
Having achieved three other accreditations that focused on emergency cardiac procedures, hospital leadership looked to ACE as the only accreditation provider for cardiac cath labs to validate Cath/PCI processes. "ACE experts are singularly focused on quality for the cath lab," states Mr. Oslowski. "ACE drives best practices with experts who have been in the cath lab and PCI trenches. The partnership is gratifying."
The accreditation process, detailed in a three-step progression, begins with an online application and departmental verification of requirements. "It couldn't have been achieved without the team approach," notes Ms. O'Leary. "You definitely need physician approval and buy-in but many of the requirements were processes we were already doing." Information was assembled and uploaded to the ACE website and, within weeks, Forbes was contacted by ACE to schedule a site visit of the facility.
The site visit was comprised of three cath lab nurses who inspected the cardiac cath lab for two-and-a-half days. Their activities included observation and interviews with the hospital staff. "An unexpected benefit was that we had a positive exchange, not a punitive one," said Mr. Oslowski. "They understood our challenges and provided guidance for best practice."
The final step involved uploading a randomly selected collection of angiograms with case reports to the ACE image portal. Independent physicians reviewed the data online and a final report was compiled. The report was received within six weeks and granted the cardiac cath lab provisional accreditation status. ACE continues to support the Forbes Cardiac Cath Lab on their journey to full accreditation. "We still have work to do," states Paul Kleist, MD, FACC, Quality Director. "We continue to improve by standardizing care, and the result is improved outcomes and quality." ACE accreditation is a collaborative learning process and the end result is best practice with market advantage. "Our market is very competitive," notes Dr. Kleist. "We can advertise our accreditation credentials which other hospitals locally cannot. We feel this gives us a competitive edge."
About Accreditation for Cardiovascular Excellence
ACE, an independent organization sponsored by the Society for Cardiovascular Angiography and Interventions (SCAI) and the American College of Cardiology Foundation (ACCF), offers independent evaluation and monitoring of facilities that provide cardiovascular care. By reviewing facility and operator performance and comparing clinical decision-making to nationally accepted best practices, ACE peer review and accreditation services plays a critical role in continuous quality improvement programs. Learn more at http://www.cvexcel.org.