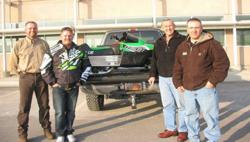 Dallas, Texas (PRWEB) January 23, 2013
Ken Rossum of Sandy, Utah, won a new youth model Arctic Cat Sno-Pro 120 snowmobile, helmet, goggles, and a free online snowmobile safety course at http://www.snowmobile-ed.com/utah. Rossum entered a drawing at the 2012 Intermountain Snowmobile Show. The contest was sponsored by the Utah Snowmobile Association, Utah State Parks Off-highway Vehicle Program, Arctic Cat, and snowmobile-ed.com.
"There is no better way to get a child interested in snowmobiling than providing a brand new snowmobile of their own to ride," said Jeff Eddings, president of the Utah Snowmobile Association. "Moreover, as nice as a new snowmobile is, we also felt it was important to promote safety. Not only is this lucky winner getting a new Arctic Cat snowmobile, but they are also receiving a brand new helmet and goggles courtesy of the Utah State Parks Off-Highway Vehicle Program and a free online Utah snowmobile safety course courtesy of snowmobile-ed.com. This partnership serves as a solid reminder of the commitment many organizations are making to preserve the sport of snowmobiling, while instilling the importance of safety in the next generation of snowmobilers."
Rossum, an avid snowmobile rider with more than 45 years of experience, said he is excited to share the sport of snowmobiling with his nine grandchildren.
"We have a cabin in the Uinta Mountains and the sled will find a good home there. Our grandchildren will love that," Rossum said. "We already have one of our grandchildren taking the snowmobile safety course and the online course we won will go to the next grandchild in line."
The Arctic Cat Sno-Pro 120 snowmobile giveaway was promoted at the 2012 Intermountain Snowmobile Show. Monies raised from this fundraiser will be awarded to local clubs through a grant program. Clubs will use the money for constructing new signs at trailheads, upkeep of warming huts, and coordinating snowmobiling-related charitable events within the local community.
"This giveaway is a great example of how a public/private partnership can influence our youth to enhance snowmobiling," said Chris Haller, Utah State Parks Off-Highway Vehicle Program coordinator. "It demonstrates the commonalities that exist between different organizations and businesses in order to promote a safe, responsible recreational opportunity."
About Kalkomey
Kalkomey, parent company of snowmobile-ed.com is an official provider of recreational safety education products for all 50 states. An American company based in Dallas, Texas, Kalkomey produces print and Internet courses that have provided official safety certification since 1995. Kalkomey offers safety courses in boating, hunting, bowhunting, and off-road vehicle and snowmobile operation. For more information, visit http://www.kalkomey.com.