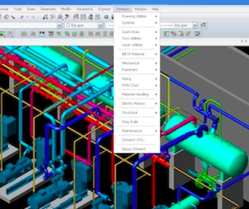 the new pricing tier allow users to better configure Mech-Q and pay for only the options they need.
Bend, OR (PRWEB) January 23, 2013
Today CADavenue is offering new pricing options for its Mechanical Engineering Suite. The new CAD engineering software's pricing will allow users choose between 4 different configurations.
Owner, Victor Abela states "The new pricing tier allow engineers to better configure Mech-Q and pay for only the options they need."
Users will be able to choose from a 2D only version of Mech-Q or whether they need a materials reporting option called BOM.
Mech-Q is engineering software developed by ASVIC.com for AutoCAD®. CADavenue.com is the US and Canadian outlet for Mech-Q.
Victor continues "We understand many engineering firms want to start with a 2D only package. If at a later date they wish to upgrade to 3D we will offer them a way to trade-in their older versions."
The engineering software includes over 100 utilities to create Piping, Ducting, Mechanical or Structural elements within AutoCAD®. Various pull-downs and tool bars also integrate into AutoCAD®'s toolbar.
The new pricing tier is affective today and also includes a special 2 for 1 licensing promotion offer - good only for January 2013.
More about CADavenue and their trial download are available at http://www.cadavenue.com or phone them at 888-271-7121.
Email:sales(at)cadavenue(dot)com
Headquartered in Bend, Oregon, CADavenue is subsidiary of ASVIC.com. ASVIC is a developer and distributor of CAD-based software products for Engineers and Architects and is located in Queensland, Australia.