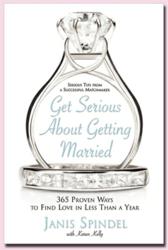 My system has worked for the past 20 years and I survived all the changes
New York, NY (PRWEB) January 24, 2013
Janis Spindel Serious Matchmaking, Inc. digitizes 20 years in the upscale matchmaking business to preserve the integrity for generations to come.
Technology has bridged the gap between Continents to connect with Janis and her team of Cupids through instant downloads on Amazon.com. Janis' protégé, Ashley Kaylor also known as the Dating Diva USA, Julia Bekker founder of Hunting Maven and Diane Kim, Head of the Asian-American Matchmaking division will all be regular expert contributors to the JSU program through Amazon.com.
"My system has worked for the past 20 years and I survived all the changes. I still plan on retaining my integrity as being the most demanding and costly matchmaking service to get into, with a track record to prove it," says Spindel." By digitizing my last 20 years in the business, those in remote parts of the world can now have the chance to experience what it might be like to meet me and my team of Cupids through downloads of the same techniques that I have successfully used over the past 20 years."
With the addition of Dating Diva USA, (born on Valentines Day) Hunting Maven (whose mission is finding the ONE without wasting time) and Diane Kim Matchmaking, (catering to the needs of first and second generation Asian-Americans) Janis Spindel Serious Matchmaking, Inc. will be available world wide in many languages.