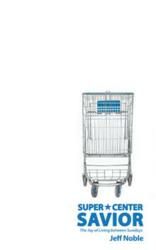 The message of "Super Center Savior" urges consumerist Christians to rethink who and what their joy is in and to realign their lives with Christ as the center.
BLACKSBURG, Va. (PRWEB) January 23, 2013
Pastor Jeff Noble's new book "Super Center Savior: The Joy of Living between Sundays" (published by CrossBooks) explores an analogy between the church and Walmart and urges 21st-century Christians to live joyful lives in love with Jesus for the world.
"Super Center Savior" is a challenging and playful comparison of the American Christian church to Walmart stores. Each chapter paints a picture of how a Christian can learn from the big box stores a principle that will help them express their faith in Christ outside of church gatherings. The message of "Super Center Savior" urges consumerist Christians to rethink who and what their joy is in and to realign their lives with Christ as the center.
An excerpt from "Super Center Savior":
"It's my observation that Wal-Mart has taken a role in the life of many of our towns and communities that the church once had. As the evangelical church's influence declines in our post-Christian nation, the influence of any institution that meets legitimate needs has increased. Wal-Mart has become just such an institution.
Even today in our recession-worried culture, Wal-Mart's latest commercials remind us again of what they're doing for the average American family –saving us money. It begs the question as to what the church is actually doing for our communities."
"I saw thousands of people 'attending' church semi-regularly, but very few of them 'being' the church, or even 'enjoying' their relationship with the God of the church," Noble says. "Because Walmart is a commercial and social staple of many of these Bible Belt communities, I took a familiar cultural icon and used it and its practices in a way to both challenge and encourage Christians and church leaders to experience the joy of 24/7 Christian living."
"Super Center Savior"
By Jeff Noble
Softcover | 5 x 8 in | 118 pages | ISBN 9781462723300
E-Book | 118 pages | ISBN 9781462723317
Available at Amazon and Barnes & Noble
About the Author
Jeff Noble earned an M.Div. degree from Southwestern Baptist Theological Seminary. He served as a campus minister for eight years and a pastor/church planter for six years in Arkansas. Noble currently serves as pastor of Northstar Church in Blacksburg, Va. He and his wife, Carolyn, have two children, Sam and Adelyn.
CrossBooks, a division of LifeWay Christian Resources of the Southern Baptist Convention, is a Christian publishing imprint committed to bringing more Christian voices into the publishing industry. Established authors, first-time authors, and authors anywhere in between can meet their goals and fulfill their vision for their books by publishing with CrossBooks. CrossBooks' innovative style of publishing blends the best of traditional and self-publishing. While our authors contribute monetarily to cover the cost of publishing, we maintain a strict moral and quality standard that every manuscript must meet for us to publish. For more information on publishing your Christian book with CrossBooks, log on to crossbooks.com or call 1-866-879-0502.