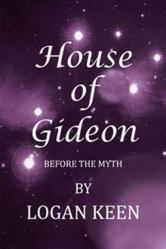 "This book was written for young girls," explains Keen. "It shows how dealing with your own fears and working together with other people can make you stronger."
LAS VEGAS (PRWEB) January 23, 2013
Author Logan Keen brings readers a magical, mystifying adventure about betrayal, deception and cruelty that is mitigated by forgiveness, compassion and redemption in her new novel "House of Gideon: Before the Myth" (published by Abbott Press).
Losing his care for the world around him, the king of Atlantis – an inventor who has accidentally become immortal – pulls away from reality allowing his great-grandson's queen to control the kingdom. Though this sounds like a wonderful idea, the queen harbors a blind ambition that, if left unchecked, will tear civilization apart.
Now, a group of unlikely heroes must heed the call of a nation and rise up to save it. Readers will witness a petty, delusional inventor, an arrogant warrior princess, a sentient robot, a timid regent and a mystical young girl band together to change the destiny of two worlds forever.
"This book was written for young girls," explains Keen. "It shows how dealing with your own fears and working together with other people can make you stronger."
An excerpt from "House of Gideon":
"The words genius, brilliant, and dynamic, which had all been used to describe him, were already dead. The words depressed, wretched, feeble, and dull-witted had taken their place. Even a humble man would be tormented by the never-ending stares of pity that were now directed at him, and Yarwin had not been a humble man. He had not been a bad man; he had been known to show great compassion from time to time, although, his own opinion of himself lay somewhere between confident and arrogant."
"House of Gideon"
By Logan Keen
Hardcover | 6 x 9in | 308 pages | ISBN 9781458207081
Softcover | 6 x 9in | 308 pages | ISBN 9781458207098
E-Book | 308 pages | ISBN 9781458207074
Available at Amazon and Barnes & Noble
About the Author
Logan Keen has been a storyteller her entire life. Raised by actors, her younger days were chaotic, dramatic and terrifying. She has been a newborn-intensive-care nurse and is now a mother. She enjoys creating and sharing her stories with her own children.
Abbott Press, a division of Writer's Digest – the oldest and most respected publisher devoted to the education and advancement of writers – is an indie-publishing imprint dedicated to helping writers bring their literary vision to print. Author Solutions, Inc., a leader in indie book publishing, will fulfill publishing, sales, and marketing services for Abbott Press. For more information, or to begin publishing a book today, log on to abbottpress.com or call 866-697-5310.