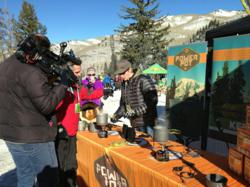 Our attendance at OR marks our entrance into the commercial outdoor market.
Salt Lake City, UT (PRWEB) January 23, 2013
As people amass in Salt Lake City for this year's Outdoor Retailer Winter Market, a number of companies are preparing to introduce a new class of personal electronics geared towards the outdoor market. While some companies have had products in this category for a few years, this year the party gets bigger. From UV water purifiers (of which there are several) to GPS units to high-capacity headlamps, there are more electronic gadgets for the outdoors than ever before.
One thing all these devices have in common is they use USB to charge. USB serves as a perfect interface for charging small devices. This has created a huge demand for ways to charge USB devices off-grid. Because of this need, Power Practical developed the PowerPot, a portable USB charger that doubles as a cooking pot.
Initially funded by a 30-day Kickstarter campaign, the PowerPot has quickly become a popular new way to charge away from home. The new device uses thermoelectric technology to convert heat into electricity--up to 5 watts. Power Practical says they've been overwhelmed by demand for the PowerPot and that it is finally ready for commercial launch. "After refining our product over the last year, we finally have something that is ready for the commercial market. Our attendance at OR marks our entrance into the commercial outdoor market." said David Toledo, co-founder of Power Practical.
While OR attendees will browse a plethora of portable solar panels, Power Practical says its device has one clear advantage: it works at night and during bad weather. "Most users express frustration with solar technology, because the output is inconsistent," said Paul Slusser, a design engineer at Power Practical, "With the PowerPot, users are able to produce electricity indoors, at night, or during a storm."
Toledo and Slusser hope that their presence at OR will be a boon for their company. So far, things are looking good! The PowerPot was unveiled at OR's All Mountain Outdoor Demo on Tuesday. The response was overwhelmingly positive, with one reporter exclaiming it was the "coolest product" they'd seen for the 2013 show.
To learn more, look for Power Practical at booth # 88 at the OR show. Or visit their website, http://www.thepowerpot.com.