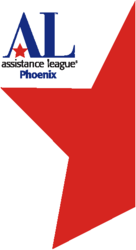 "This annual event honors members of the community who have provided outstanding support not only to Assistance League of Phoenix, but also to the community," said Aimee Runyon, Executive Director, Assistance League of Phoenix.
Phoenix, Arizona (PRWEB) January 23, 2013
What: "A Red Carpet Event," in the spirit of the Hollywood Oscars, featuring a hosted cocktail hour, a silent and live auction including a week in Belize and an after-party, all in celebration of caring. The night will also include the exciting Dress-a-Child Challenge auction in which attendees bid to dress a number of children in Assistance League's Operation School Bell program.
Who: Assistance League of Phoenix is a 501(c)(3) nonprofit organization that has more than 250 member volunteers and is part of a national non-profit organization with more than 122 chapters nationwide. Last year, Assistance League of Phoenix members volunteered over 25,000 hours and spent over $500,000 serving nearly 43,000 children and families in the greater Phoenix community through five Philanthropic Programs. The organization recently celebrated 50 years of service to the Phoenix community.
Special Details:

BHHS Legacy Foundation is a special sponsor for the event providing matching funds for the Dress-a-Child Challenge. Other major sponsors are Blue Cross® Blue Shield® of Arizona, an independent licensee of the Blue Cross and Blue Shield Association, Fry's Food Stores, and the Helios Foundation.
In addition to the trip to Belize, live auction items include fine jewelry from Olson Jewelers, dinner for 10 at Arcadia Farms, and airfare for two to anywhere in the Continental US. Over 100 silent auction items will be featured during the hosted cocktail hour. Sports and Hollywood memorabilia will also be for sale.
Honorees:
Fry's Food Stores of Arizona, Inc., Jon Flora, President
Anita Helt, General Manager of ABC15
The Phoenix Sun's Wives
Betty Hirshberg, Community Philanthropist
When: 6 p.m. Saturday, February 9, 2013
Where: W Hotel in Scottsdale
Why: This annual event celebrates a successful year of philanthropy and the support of the community. It also honors members of the community who have provided outstanding support not only to Assistance League of Phoenix, but also to the Phoenix area community. The proceeds for this event go to Assistance League's five programs with special focus on Operation School Bell, which provides new school uniforms to more than 4,000 children each year. The Dress-a-Child portion of the event is expected to raise enough money to outfit more than 1,000 low-income school children this year.
Committee Chairman: Susan Mills Thomas is the committee chairman and Kathleen Donahoe is the Co-Chairman for this event.
For Tickets: Call the Assistance League of Phoenix at (602) 944-7636 or e-mail info@alphx.org. For more details on the event, visit http://www.alphx.org.