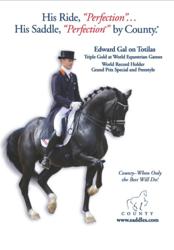 Visit the County Booth & sit in a County!
"Don't Miss the Beat The Price Increase Sale! 2012 Prices until 1/31/12"
Wellington, Fla. (PRWEB) January 23, 2013
County Saddlery today joined equestrian enthusiasts and dressage riders from around the world for the start of the 2013 Wellington World Dressage Masters at the Jim Brandon Equestrian Center in Palm Beach County, Fla., part of the World Dressage Masters series sponsored by Axel Johnson Group.
Running from Jan. 23-27, the Masters features such top international dressage competitors as the Netherlands' triple Gold Medalist Edward Gal on Inter Floor Next One. Coming off a Jan. 6 Grand Prix freestyle win with a 77.35% in Drachten, Netherlands, Gal will compete with other leading European and U.S. riders for Masters prize money of about $131,850. Last year's Masters series offered an unprecedented purse of over half-a-million dollars.
A number of Europe's and America's best riders are making Wellington their sole appearance in Florida. Competing European dressage greats include Sweden's top-two riders: 2012 London Olympians Tinne Vilhelmsson Silfven riding Don Aurilio, ranked first in Sweden and 10th in the world, and Patrik Kittel on Watermill Scandic, ranked second in Sweden and 11th in the world.
Top U.S. riders include: U.S. Olympian Steffen Peters on Legolas 92, the U.S. top-ranked rider-horse team, based in San Diego, Calif.; Olympians Adrienne Lyle on Wizard, based in Idaho, and Tina Konyot on Calecto V, based in Palm City, Fla.; and Heather Blitz, who makes her winter home in Wellington, riding Paragon.
Other world-class riders include: Denmark's Lars Petersen riding Mariett and Lisbeth Seierskilde riding Jonstrupgardens Raneur; Canada's David Marcus riding Chrevi's Capital and Jacqueline Brooks on D Niro; Italy's Silvia Rizzo on Donnerbube II; and Australia's Nicholas Fyffe on Sentimiento I.
At the dressage competition, County Saddlery is showcasing its world-class saddles and other innovative horse products designed for shows, including County saddle pads, girths, leathers, scrim sheets and coolers – all available on the County online store at https://shop.countysaddlery.com/. The complete line of County custom-made saddles is featured on the company's website at http://www.saddles.com.
Dressage holds a special place in equestrian history as the oldest and most beautiful of equestrian disciplines, becoming an Olympic sport in 1912. Sports marketing agency SportBizz and equestrian innovator Exquis launched the World Dressage Masters in 2008 with the goal of promoting the sport to audiences worldwide.
County's traditional methods take longer and require a higher degree of craftsmanship than competitors' methods, but once a rider sits in a County, the results are clearly worth it. The company's commitment to quality and detail is reflected in every saddle it makes.
Resisting the trend toward cheaper production methods that use foam-rubber panels and plastic trees, County saddles are handmade on laminated beech-wood trees, covered in the world's finest leather, and flocked with pure wool to maximize horses' comfort and fit. One of the few saddlery companies in the world to make their own tree points, County sets the industry standard in design and innovation.
Visit the County Booth & sit in a County!
"Don't Miss the Beat The Price Increase Sale! 2012 Prices until 1/31/12"
For more information, readers should visit County's website at http://www.countysaddlery.com or
call 1-877-41-HORSE.
###