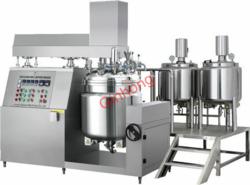 Jinhu, Jiangsu Province (PRWEB) January 26, 2013
The China based company Ginhong provides the RS vacuum emulsifying mixers to customers who use them in their production lines. These mixer homogenizers are used by pharmaceutical, chemical, food and cosmetic industries.
Ginhong provides companies with three different versions of the vacuum mixer homogenizer developed in the RS line. The RS is used to make viscous cream and emulsions. There is a simpler version which is used to make smaller batches of suspensions and creams. It is a great option for smaller companies which are on a tight budget. The RS lab vacuum emulsifying mixer is a much smaller lab version of the larger RS and it is used to test batches of products such as lotion or cream.
The vacuum mixer homogenizer made by Ginhong is used to produce viscous cream and emulsions in the chemical, food, pharmaceutical and cosmetic industries. This particular model is the most popular design used in Asia and the United States. One reason for its popularity is that Ginhong engineers designed the unit to be able to perform several tasks all in the one unit. It can complete the entire process from initial mixing all the way through to heating and cooling the mixture without having to be transferred to another unit. The vacuum emulsifying mixer homogenizer complies with cGMP regulations and is CE certified for marketing in the European market.
Ginhong is dedicated to meeting the needs of customers by offering these three sizes of the mixer homogenizer. Industries can use each size to their benefit and ultimately save time and money. The smaller version can test products before great expenditures are created to make larger amounts. The medium size unit is specially designed to meet the needs of smaller industries that have no need to make larger batches of product. And the larger unit is designed to create large batches of products.
About Ginhong
Ginhong is a Chinese company which has been based in Jinhu, Jiangsu Province. Ginhong has its own team of expert engineers who design and engineer their mixers, emulsifiers and blenders to meet industry needs. They supply machinery to companies around the world.