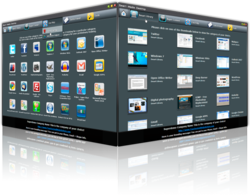 Act as if what you do makes a difference. It does.
William James


Henderson, NV (PRWEB) January 23, 2013
Smart Media Technologies has offered many great no-cost products to people around the world for nearly a year and prior to this it offered these same things on a monthly subscription through schools and non-profit companies. For example, software, games, education, bargain shopping and more. 10's of thousands of people are joyfully celebrating today as they start to get access to v2 of Home Page Pays and become part of phase 3 of the beta test. This is the largest group so far to get access and the last phase before everyone in the world gets access to this at no cost and start earning for doing nothing more than being online.
Version 2 offers even more like Smart Mail, a totally new and innovative email that is 100% safe, secure and spam free. It also offers a new line-up of exclusive games that members can play for zero money and win real prizes like cash, laptop computers, vacations and more. In addition, it has a totally new form of social media which is far removed from standard social media that is also private, safe and secure. It helps keep what they communicate to their friends and family confidential. And users have an online persona where they make their own Avatar, an online animated version of themselves which not only protects their privacy when they are in public places, but also prevents people from using disturbing images for their profiles when they play games which also helps to keep Home Page Pays a family friendly environment.
The new version also has other ways to communicate with family, friends, business associates and customers like Smart Chirp which allows them to send messages, pictures and videos to all their contacts and Smart Chat which allows them to send those same things to a select group of people or just to one individual. There is also Smart Video, a great way to find and view online videos by genre that constantly remains in the genre they searched for while they are watching videos and makes suggestions for it instead of cluttered things which often distracts viewers.
But probably the most exciting part for most members is the fact that when Home Page Pays v2 reaches phase 4 of the beta test it will be available to anyone worldwide at no cost and they will be able to earn Smart Points whenever they are online on any website. Smart Points is Smart Media's way of sharing their advertising with their users. Whenever a member of HPP is online on any website that user earns 10% of the income that Smart Media earns from its advertisers and those points can be used in the online rewards store to buy great products from digital downloads to computers and electronics. It is similar to a frequent flyer program only they don't spend any money to get the Smart Points. While users can currently earn Smart Points by referring friends or by clicking on the daily prize button, the sharing of Ad revenue is much more exciting because it does not require people to know anyone who does not already have it in order to earn Smart Points - they just need to keep doing what they did before Home Page Pays - just be anywhere online.
About Smart Media Technologies
SMT offers the solution to the number 1 problem plaguing 99% of all websites: getting their visitors to return. By allowing businesses to brand our Multimillion dollar PC Application and give it away for free to their clients, we allow them to remain in constant contact as well as keep their product or brand on the top of their customers minds. Our system allows their brand to follow their customer wherever they go online.
To learn more about Smart Media Technologies visit their website at: http://smartmediacommunications.com