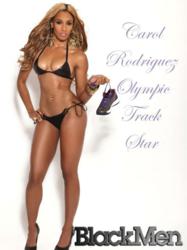 I work hard everyday and I love it
Los Angeles, CA (PRWEB) January 23, 2013
2x Olympian Carol Rodriguez gives her fans six pages of her goals, daily workout, and some of her favorite brands. Carol's daily workout is rigorous, but the payoff is worth it as she prepares for World Championships in Russia in the later part of 2013.
Black Men's Magazine shows a different side of the Puerto Rican bombshell in their fitness profile. Carol was able to show off her model side in her bikini that is no holds barred. Carol's goal is to motivate others to workout but she definitely lets her fans know that she puts in a lot for her body.
In the mist of talking about future goals Carol gives a shout out La La because she loves Motives for lala cosmetics.