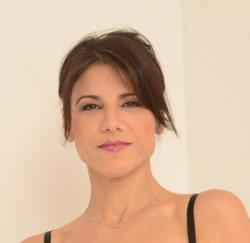 Gail Giovanniello takes time in Pre-Pilates to teach about the underlying relationships between the pelvis, ribs and spine.
New York, NY (PRWEB) January 23, 2013
Gail Giovanniello, Master Pilates Teacher on the Upper East Side of New York City and owner of Mind Your Body Fitness, presents Pre-Pilates Teacher Training beginning Wednesday, January 23rd. The training is the initial instruction for individuals seeking to become instructors but is also open to anyone wishing a deeper understanding of Pilates. Students can take any of the three scheduled four-hour class slots which can be combined with future hours of Gail's comprehensive training along with private classes with her, hours of observation and teaching hours all available at Mind Your Body.The full-time student to the program will be well-prepared to take the Pilates Method Alliance exam if interested.
In a Pilates instructor certification program students are often taught verbal cues to give to clients. But if a student-becoming-instructor knows only to speak "chin to chest" or "navel to spine" without the underlying reasons for cues such as this, then their practice once they begin to instruct their own clients will be pat, repetitive and lifeless. As opposed to just learning a choreography of exercises and accompanying verbal cues, Gail's trainings offer enormous specificity that has been honed over the eighteen years that she has owned, managed, and been the master teacher of her Upper East Side Pilates studios as well as the years she studied dance and other movement practices. Also, besides inventive and creative verbal cues and instruction, Gail is masterful at relaying body knowledge through sensitive and personalized hands-on cues.
People think Pilates is all about abs or getting a strong core or - in Pilates-speak - all about "the powerhouse." Gail Giovanniello takes a lot of time in Pre-Pilates to teach about the underlying skeletal relationships between the ribs, the spine, the head and the pelvis. Considering that the abs - or abdominal structure - is the space between the pelvic structure and the rib structure - it's crucial to know about pelvis and ribs before even delving into understanding the abs. And considering that the largest part of the spine is - in effect - behind the abdominal wall, knowing how the spine and head work really also precedes instruction on how to engage the abs. One of Gail's way of describing this truth is, "Lead with the skeleton and the muscles follow."
Gail teaches about these underlying skeletal relationships with a carefully crafted language that's come from years of both study and teaching. Anatomy is tricky - yes, an instructor or teacher will have to know much more anatomy than they will be able to expect a client to learn in order to workout - but anatomy is so extensive, one has to be very choosy about elaborating just on certain key skeletal parts. In these teacher trainings, as well as in her commitment to ongoing Pilates continuing education Gail is masterful at using a combination of true anatomical terms, laymen's terms, and imagery to get across what will benefit someone from the standpoint of understanding how anatomy informs, but doesn't bog down movement.
For more detailed information on Pre-Pilates teacher trainings, or for more information on customized-to-the-client private Pilates sessions with Gail Giovanniello or her fine staff of instructors,
please call Mind Your Body at 212-426-7960 or see Train with Mind Your Body Pilates owner Gail Giovanniello.
Also see the complete Mind Your Body Fitness Group Pilates Class Schedule:
Over 40 Classes to Choose From on Reformer, Tower, Chair and Mat
Each Class with Five or Fewer Students and Available Seven Days a Week
Complimentary private press previews with Gail Giovanniello can be scheduled for alternate times.
Press contact: Tim Driscoll 212-647-8878