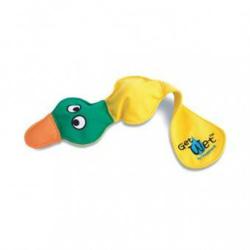 Miami, FL (PRWEB) January 23, 2013
Natural pet supplies retailer WholePetDirect.com releases a new product The Get Wet Duck by Doggles. This toy is a favorite for pet owners and dogs as it can be played with on land or in the water. Dogs everywhere love this toy and it is great for them to get exercise as well as enjoyment. "My dog Jack loves his Get Wet Duck. We take it every time we go boating and he can't get enough. His favorite is to play fetch with it from the boat," John Witham, satisfied WholePetDirect.com customer excitedly reports.
WholePetDirect.com prides themselves on great customer service. Located in Miami Florida, WholePetDirect.com has an enthusiastic staff that makes great customer service a primary goal. Customers can chat with live representatives or call them at 1.877.602.7822 where very helpful Whole Pet Direct Inc. staff is ready to help. Whole Pet Direct welcomes all questions, concerns, or feedbacks on how they can help make the shopping experience better. "We always keep amazing customer service a top priority," states Kyle Breiner WholePetDirect.com executive, "Making and creating long lasting quality relationships for our customers is something we strive for."
The Get Wet Duck is a valuable toy. It is made of natural materials that make it healthier and safer for pets. Not only that, it is better for the environment as well. The Get Wet Duck can be used in the water and on land. It floats in the water making it great for dogs that swim to play fetch. This helps dogs get extra exercise especially for dogs that like and know how to swim. Doggles is a leading producer of pet products and The Get Wet Duck is a top seller. WholePetDirect.com has The Get Wet Duck as one of its best sellers priced at the very affordable price of only $12.50. WholePetDirect.com has flat shipping for all orders of $5.75 and any order of $100 shipping is free.
WholePetDirect.com is a well-stocked online boutique featuring supplies selected by experienced dog care specialists. Purchasing from this popular outlet offers the buyer not only great products at great prices, but also promotes dog rescue and adoption. Mindful of the many benefits dog ownership offers, WholePetDirect.com generously supports this cause. "We are very proud to have partnered with Big Hearts for Big Dogs Rescue," Kyle Breiner Whole Pet executive states. "This non-profit organization is devoted to rescuing and placing dogs for adoption, and we happily donate 5% of all sales that are made through the referral link at Big Hearts for Big Dogs."
http://www.wholepetdirect.com invites you to visit their website to purchase The Get Wet Duck, as well as its other quality products. Have a question? Don't worry. Live representatives are available to chat online.