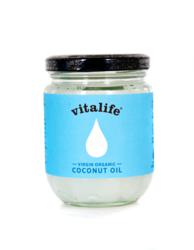 We want to be seen by consumers as a broader 'health product' brand
Rotherham, South Yorkshire (PRWEB UK) 23 January 2013
Established in 2010, Vitalife started life just two and a half years ago in the niche industry of specialist teas - with just one line of their signature matcha green tea (a powdered form of green tea).
Since then, they have expanded to offer over 16 lines of specialist teas from matcha through to their popular 'slimming' tea blend, and are still showing no signs of complacency with their most recent product launch - organic coconut oil.
The move marks Vitalife's intention to become known for more than just teas - according to Managing Director Gavin Edley 'we want to be seen by consumers as a broader 'health product' brand' he explained.
'We have developed a strong brand since our inception in 2010, and want to continue building on these foundations by offering a wider range of health products under the Vitalife brand - following our basic principles of developing products with completely natural ingredients and using strictly nothing that is highly-processed or artificial' Edley said.
Vitalife's new organic coconut oil range consists of a 200ml and a larger 400ml jar, both of which are virgin, unrefined, and cold-pressed. On the packaging, the typical 'mug' emblem as used throughout their tea range has been suitably switched with an oil 'droplet' - suggesting Vitalife are planning to continue expanding in the area of 'healthy oils' under a separate identity 'emblem'.
Edley indicated that consumers can expect to see a lot more products to come from Vitalife in the near future by saying 'coconut oil is just the beginning of our range expansion - we have many more products that we are currently developing, testing, and planning to launch during 2013. It is set to be a very busy year for us in the New Product Development department'.
More information on Vitalife's new organic coconut oil can be found at http://www.vitalifeteas.com/products/virgin-organic-coconut-oil-200ml