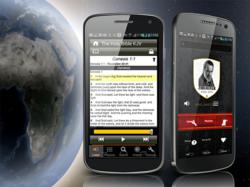 The Scourby Audio Bible App, the Newest Way to Access the Oldest Book
Los Angles, CA (PRWEB) January 24, 2013
Litchfield Associates, owner of Scourby.com, has just raised the bar in accessing the King James Bible, with the introduction of the all new Scourby Audio Bible APP.
The Bible APP features the voice of Alexander Scourby, reported by the Chicago Tribune as having "the greatest voice ever recorded". The Audio Bible APP is feature rich and is delivered with both audio and text synced together, It offers full search features by book, chapter and verse down to word level.
Users have the capability to create playlists of their favorite verses and store them for future reference or even to play at bed time. The app also has an electronic book mark to keep track of where users left off, a history of where they have been and option to change font size and type as well as a night mode reading feature and much more.
After listening to the audio Bible APP, this reporter completely agrees with the Chicago Tribune, there is no better voice out there than Alexander Scourby and he fully deserved the title as "The Voice of the Bible". I was taken with the expressive manner in which he read the verses almost like he was there and was struck by the way he effortlessly read all those unpronounceable Words with such ease.
His narration is just unequaled and brings out the depth of the verses with new meaning and understanding and is truly the Newest Way to Access the Oldest Book.
Scourby.com has become the place to go for Audio Bible APPs for Andorid and iOS phone and tablet APPS. For users wanting a Bible MP3 Downloads for their Mp3 players, they can find that at scourby.com as well.
Bible Study will never be the same after users experience the bimodal presentation of the both audio and text synchronized together. Studies have proven the enormous benefits including an increase in understanding, comprehension and retention of facts when using this simple technique. Users will also benefit form an improved word recognition and vocabulary, as well as less reading fatigue.
This Reporter feels that the new Scourby Audio Bible App is the best use of technology for accessing the Bible ever developed to date and is a great new tool for people to access the KJV Bible like never before.
Check out their web site at Scourby.com site and take an app tour and experience the King James Bible as never before and see how users can put this newest way to access the oldest book at their fingertips.