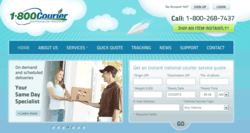 Atlanta, GA (PRWEB) January 24, 2013
1-800 Courier, a nationwide leader in same-day delivery, messenger and transportation services, announces online special quote requests. This request tool is created in an effort to expand into freight delivery markets and offer various types of transportation services. 1-800 Courier strives to be the best choice for superior same-day delivery courier solutions nationwide.
The special quote request form is accessible online via their website. 1-800 Courier customers can click "Special Quote Request" and complete their comprehensive form. Special quotes are for service request that are beyond the normal, core services that are operationally provided on a continual basis. Special quotes include courier solutions that are long distance same-day or overnight freight deliveries, even trucking shipments. They also include multiple-stop services, scheduled services, office mail routes, large equipment deliveries, and more.
The courier offers the benefit of being a one-stop courier and transportation provider. Instead of multiple delivery services for various freight, 1-800 Courier promotes this service level to customers via special quote requests. 1-800 Courier responds promptly to all special requests and is available 24/7 to assist their customers with other same-day delivery services solutions.
1-800 Courier is a recognized same-day courier of same-day delivery, transportation and distribution courier services nationwide. From small packages to palletized freight, 1-800 Courier delivers on-time and fast! With their experienced driving staff, professional customer service and modern courier technology, 1-800 Courier provides superior courier solutions. Based in Atlanta, Georgia, 1-800 Courier successfully services a growing list of over 1,500 clients, including Fortune 500 Companies throughout the US.