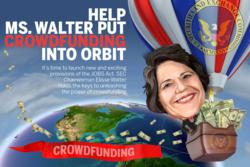 We feel that 2013 could be a year of more innovation—and less hot air—for start-ups and the economy as a whole
New York, New York (PRWEB) January 23, 2013
New rules by the Securities and Exchange Commission to help small businesses raise money via crowdfunding should be enacted immediately, or so say a handful of start-up entrepreneurs who are ready to make 2013 a banner year. So much so that they've sent the image of Elisse Walter, the Chair of the Securities and Exchange Commission, to space with the help of a weather balloon launched from Newburgh, New York Saturday, January 12, 2013 in the hopes of attracting enough attention to make it happen.
"We feel that 2013 could be a year of more innovation—and less hot air—for start-ups and the economy as a whole, and feel very optimistic for what Crowdfunding can do for job growth in the New Year," says Ran Weiss, founder of Seederella, Inc., a start-up designed to help funders find projects from a variety of platforms. "But in order to get things off the ground, we need the SEC to hold up their end of the deal by following the mandate passed by Congress to introduce new rules immediately, and to do so in keeping with the spirit of the free market to enable more start-ups to acquire the funding they need to launch successfully in 2013," he adds.
"The Securities and Exchange Commission has delayed rules allowing Crowdfunding that were supposed to take effect this month as part of the JOBS Act (Jump-Start Our Business Start-Ups)," says a December article on the Wall Street Journal titled "Stalled Crowdfunding Rules Leave Business Plans on Ice".
"President Obama called this a 'game-changer' when he signed the bill, and that's exactly how we feel about it—only now, after months of waiting in anticipation, we're left with a sense of frustration that SEC hasn't come through, or that perhaps there may be too many rules being considered which could stifle this important innovation," says Weiss.
Optimism for Crowdfunding as an alternative to venture capital or commercial loans has grown exponentially since the Jobs Act was signed into law by President Obama in 2012, with numerous Crowdfunding start-ups popping up to both take advantage of this new approach, and others being launched to help start-ups succeed at it.
"While we feel that this is something that we really shouldn't have to do, we look at it as a symbolic statement for the very issues that we seek to avoid—less hot air—and more support for free market initiatives like Crowdfunding in order to help startups succeed and further grow the economy in 2013," says Weiss.
About
Seederella helps funders find projects from a variety of platforms. Search and filter equity, rewards, lending and donation projects –all on one web site. It's Crowdfunding, but a little less crowded.
To learn more go to:
http://www.seederella.com/
Facebook:
http://www.facebook.com/Seederella
Twitter:
http://www.twitter.com/seederella
LinkedIn:
http://www.linkedin.com/company/seederella
Google+:
https://plus.google.com/u/0/b/107029193666899304993/107029193666899304993