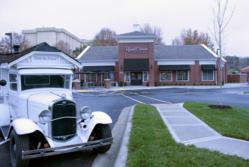 Kansas City, MO (PRWEB) January 23, 2013
Russell Stover Candies, America's third largest chocolate manufacturer, has recently rebuilt the Russell Stover retail store in Merriam, KS. The existing store building which originally opened on July 15, 2002 was demolished in May 2012. A new building, designed to offer a boutique shopping experience filled with all the sights and smells of luscious chocolate and candies, was erected in the same location near I-35 and Shawnee Mission Parkway at 10100 W. 63rd Street in Merriam, KS. Russell Stover Candies will host a ribbon cutting in the new store with the Merriam, KS Chamber of Commerce Thursday, January 24th, 2013 at 8:30 am.
The new Merriam, KS retail store features the design originally piloted by local area Russell Stover Retail Stores in Fairway and Overland Park, KS, and now being implemented in stores across the country, most recently in Tulsa, OK, and Corsicana, TX. This look is predicated on the basis that 'Russell Stover 'The Store' builds a unique layer upon Russell Stover the brand," Angela Ellsworth, VP Store Operations, said. "Of course, the stores feature America's best-selling boxed chocolate - Russell Stover, but we enrich the Russell Stover Candies brand by offering specialty items that can be found at no other retailer. The new store in Merriam, KS brings with it more of these specialty items. The store will now feature frozen custard made fresh in both vanilla and chocolate, cupcakes, mini cupcakes, and cookies baked with the finest ingredients as well as returning favorites such as chocolate covered strawberries, gourmet caramel and candy apples, hand crafted confections such as buttery fudge, nut clusters, pecan delights, and peanut butter cups, and 32 flavors of Blue Bell Ice Cream." In addition to the Russell Stover brand, The Store will carry Whitman's Sampler Chocolates - America's favorite box of chocolates and Pangburn's Millionaires - a best-selling regional chocolatier currently found predominantly in Texas and Southwest, but quickly gaining popularity across the country.
Russell Stover Candies retail stores offer an opportunity to support the local community. Schools and nonprofit organizations have the ability to raise more money by participating in a SweetShop fundraiser at their local Russell Stover Candies retail store. A group specific day is chosen where 10% of sales made by the group's supporters using a special flyer are donated back to the organization. We've found that it's a great way to help the community and a great way to give people a reason to come visit us," Ellsworth added. Other community events/associations include Susan G. Komen for The Cure - Greater Kansas City and The National Juvenile Diabetes Research Foundation.
Above and beyond a wide array of delicacies, the new store will feature a customer loyalty program. "One of the things we hear all the time is 'hey, if you ever need a chocolate taster call me', well we now have a program that makes that happen," Ellsworth said. The Russell Stover Rewards Program will allow participating customers to earn rewards, receive promotional offers, be made aware of upcoming new product introductions and be one of the first to try new products. Enrollment forms will be available in The Store.
About Russell Stover Candies, Inc.
Russell Stover Candies was started in the Denver, Colorado home of Russell and Clara Stover in 1923. Today the company operates 39 retail stores throughout the United States and is the number one boxed chocolate company in the United States. Russell Stover can be found in thousands of venues throughout the United States and in 20 countries around the world.
For more information visit http://www.russellstover.com.