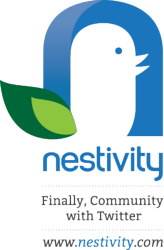 LOS ANGELES, CA (PRWEB) January 23, 2013
Nestivity, the first social community platform built around Twitter was unveiled at last week's 2013 New Media Expo and BlogWorld Convention in Las Vegas. Nestivity turns your Twitter following into a community; allowing your followers to connect with each other to share experiences, ask questions, and submit tips and ideas. The sneak preview event drew media and industry attention and drove hundreds of sign-ups in anticipation of the official product launch at SXSW 2013.
Nearly 200 Influential Brands and Bloggers attending NMX were invited to a Nestivity Sponsored VIP Cocktail Reception at the NMX and Blog World Convention held at the Rio Hotel in Las Vegas. The select attendees were the first to see the Nestivity product in action, with live demonstrations and a Q&A conducted by Chief Product Officer/Founder Henry Min.
The demonstration showed how a community is easily formed, managed, and grown on Twitter. Not only was the audience response overwhelmingly positive, the sneak preview event has driven feature news articles, hundreds of tweets, and hundreds of early beta sign-ups at nestivity.com.
"Conversations about Nestivity are already happening on Twitter. Reactions to the demo included commentary from some extremely powerful people in the sector, said Henry Min, Chief Product Officer/Founder, Nestivity, "We heard comments like - This would bring me back to Twitter and Nestivity makes it so much easier for both the brand and the followers to actually converse. This is exactly our goal. We are ecstatic by the response to our sneak preview."
In addition Nestivity CEO/Founder Bahram Nour-Omid appeared with Guy Kawasaki and Mari Smith in front of a packed room at NMX. The panel discussed the future of "community" on the major social networks. Bahram Nour-Omid represented the Nestivity product for Twitter, Guy Kawasaki served as an expert on Google+ communities, and Mari Smith represented her very large Facebook community. The panel addressed the benefits and challenges of managing your community on each platform. They shared experiences best practices, strategies, and tricks for managing large communities online.
"We could not be more pleased with the response to Nestivity. We saw a strong need for organic and organized community engagement and growth, especially for Twitter, " said Nestivity CEO/Founder Bahram Nour-Omid, "Nestivity represents the future of real, scalable community management."
ABOUT NESTIVITY
Nestivity allows you to turn your Twitter followers into a community. Your Nestivity community creates an organized and structured venue to engage your audience more deeply. Nestivity makes it possible to create focused projects and conversations that are easy for your followers to find, follow, engage, and share. All activity from your Nestivity community also appears on Twitter, allowing anyone to find your content and join the conversation. Everything associated with your account is securely stored, so you can leverage and learn from past content. Nestivity creates a more valuable Twitter experience for you and your followers.
BUSINESS DEVELOPMENT AND MEDIA CONTACT
Mike Schulz
Dir. Marketing Operations
424.442.2873
press(at)nestivity.com
mschulz(at)nestivity.com
Nestivity.com