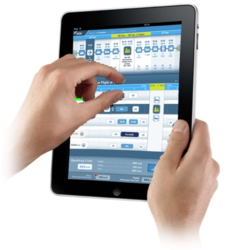 Our industry desperately needed change and innovation - it just got it.
Paris, France (PRWEB UK) 31 January 2013
"Neo is a new dawn for T&E management" said Forbes "one where cool apps can delight users as well as provide corporate policy control and cost savings."
KDS Neo delivers complete, bookable, door-to-door itineraries and also predicts related expenses. Thousands of routes and options are analysed, based on search criteria, company policy and the user's preferences. A graphical timeline and preliminary expense report are displayed in seconds. Optimised for web, tablets and smart phones, users interact with their itineraries. Tapping and swiping to access driving maps, flight numbers, hotel pictures or even a street view of the final destination.
"Neo is unlike any corporate booking tool you've ever seen. This is what business trips should look like and what travellers should expect in 2013" said Forbes.
Each search returns 4 complete but editable proposals:

Recommended - the best compromise of cost, time, policy, convenience and preference.
Cheapest –This is the cheapest reasonable option.
Fastest – when time is money, the quickest way to get to your meeting.
Greenest – The lowest carbon foot print for the complete journey
From the results page, users can access flight, rail, hotel and ground transportation alternatives. Trips can be fine-tuned as needed while keeping a logical door-to-door timeline. As all results are bookable the time to search and book an entire business trip is now measured in seconds.
Neo also offers new perspectives and opportunities for travel managers. Savings increase as Neo returns the cheapest overall combination of options. It avoids, for example, the classic false economy of a low cost flight and an expensive taxi. Line managers can approve Neo trips based on a calculated total cost of trip amount, including all expenses, for greater budgetary control and can easily identify the trips that are too expensive for the manager to accept. Saving 1 in 20 trips equates to 5% saving on your total T&E budget.
For content, Neo uses the existing rich KDS inventory; air, rail, hotel and car and adds new suppliers such as GroundScope taxis. Its open architecture allows content to be quickly added, for example KDS CTO Stephane Le Cam showed how easily Parisian city bike system, "Velib" could be added.
Beyond trip planning and booking, Neo allows Pre-approval of known or planned expenses. This streamlines the entire approval process while fully automating expense entry. Travellers can leave home with their expense claim already completed and approved.
"The launch is only the beginning" said Forbes, "For example, Neo has configurable trip scoring. We will soon add gamification, reinforcing positive behaviour with corporate reward schemes."
"We realised our vision and are delighted. It's an amazing user experience and is centred around the value of unified T&E. Our industry desperately needed change and innovation - it just got it." added Forbes.
KDS Neo is available now.
About KDS
KDS (http://www.kds.com) is a leading provider of Travel & Expense (T&E) management systems. The cloud based technology addresses all T&E requirements, from policy enforcement, and online travel booking of, to automated expense processing and invoice reconciliation. With each stage handled efficiently, clients achieve significant cost-savings. KDS offers extensive connectivity to financial service and travel providers (airline, car, rail and hotel), ensuring optimized availability and pricing.