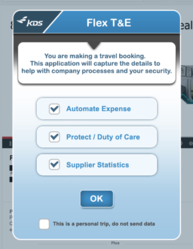 KDS Flex T&E combines, for the first time, the value of unified T&E and the flexibility of Travel 2.0. We think we've really nailed it.
(PRWEB UK) 31 January 2013
In "Managed Travel 2.0" employees can book anywhere with any supplier – so long as they stay within budget. This gives users a greater choice but, until now, has meant that companies have had to sacrifice data, duty of care and process automation.
KDS Flex T&E offers the holy grail – The benefits of a managed program for consumer site bookings. The application captures booking information made on any site (airline, hotel, car or OTA) and sends:

Duty of care information to the corporation's service provider (e.g. International SOS)
Supplier and purchase data to KDS Reporting for analysis
Receipt data to KDS Expense to automate expense management process
Collated itinerary information to the KDS mobile application
Travel Managers can now retain visibility and control whilst offering the ultimate flexibility of choice for their travellers. Managed Travel 2.0 becomes an incremental evolution in control.
A partnership with International SOS, the world's leading medical and security services company, was formed to coincide with the launch, offering the new standard of protection against Duty of Care claims. If there is a location based emergency or the traveller runs into difficulty – the system knows exactly where they are to get them the help they need.
By sending booking information to user's expense inboxes, laborious, manual and error prone data entry is avoided, saving your travellers time and your accounting department pain.
When a transaction is made the user is informed that the data is going to be securely stored for traveller security, supplier analysis and expense automation. The user is also given the choice to decline if the booking is not business related.
A small, yet growing, number of organisations are following Google's example and have been adopting a low mandate travel policy. Dean Forbes said "The key challenge for these travel managers is capturing T&E data and ensuring duty of care for their employees. KDS Flex T&E combines, for the first time, the value of unified T&E and the flexibility of Travel 2.0. We think we've really nailed it."
Flex T&E can be used with a self-booking tool or on its own as part of a full Travel 2.0 approach, or as part of a hybrid model.
KDS Flex T&E is available now.
About KDS
KDS (http://www.kds.com) is a leading international provider of Travel & Expense (T&E) management systems for private and public sector organizations. The KDS unified Software-as-a-Service (SaaS)-based technology addresses the full range of T&E requirements, from travel policy definition and enforcement, and the online self-booking of travel, through to automated travel expense processing and invoice reconciliation. With each stage handled seamlessly by the KDS fully-integrated technology, clients achieve significant efficiencies and cost-savings. KDS offers the most extensive back-end connectivity to financial service and travel providers (airline, car, rail and hotel) in the industry, ensuring optimized pricing and up-to-the-minute inventory control.