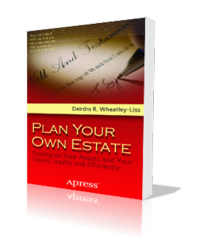 New York, NY (PRWEB) January 23, 2013
Busy people postpone appointments, lunches and just about every event that can be inserted into a calendar. But there are a couple of events that stubbornly refuses to be rescheduled: death and the distribution of monetary and other assets.
"Plan Your Own Estate: Passing on Your Assets and Your Values Legally and Efficiently" by Deirdre R. Wheatley-Liss is an information-packed resource on how to preserve the value of one's assets and efficiently leave them to beneficiaries. The book includes chapters for every type of marital and non-marital status, including married couples with children and grandchildren, singles, unmarried couples, non-citizens and same-sex couples. The book underscores the importance of taking advantage of tax-reduction strategies – no matter how extensive or modest one's level of wealth – thereby reducing or eliminating the government as a beneficiary.
Wheatley-Liss helps readers first determine their estate-planning goals, from learning how a will or trust is structured and how tax law works. She breaks down tough topics into actionable information, and provides legal insight into the most frequently asked estate-planning questions, including whether to create it oneself or hire an attorney. Also addressed are strategies to protect loved ones' inheritances from taxes, immaturity, lack of financial knowledge, incapacity, creditors, and predators. The book also includes explanations of critical documents associated with estate planning: wills, trusts, power of attorney, health care power, and other transfer devices.
"Plan Your Own Estate: Passing on Your Assets and Your Values Legally and Efficiently" is a comprehensive resource with up-to-date information about changing laws and best practices, as well as ways to ensure communicating clearly expressed directives to prevents in-family fighting over assets in the future. Readers who want to control how their money and values are passed on to their families can now plan for it.
To learn more about Plan Your Own Estate: Passing on Your Assets and Your Values Legally and Efficiently, visit http://www.apress.com/9781430244943.
*SBN13: 978-1-4302-4494-3
*348 Pages
*User Level: Beginner to Advanced
*Publication Date: December 26, 2012
*Available eBook Formats: EPUB, MOBI, PDF
*Print Book Price: $29.99
*eBook Price: $20.99
About the Author
Deirdre R. Wheatley-Liss is a practicing trusts and estates attorney who received her law degree from Boston College Law School, and an advanced masters of law degree in taxation from New York University School of Law. A certified elder law attorney, she writes the award-winning New Jersey Estate Planning and Elder Law Blog and is a sought-after speaker and contributor to national publications.
About Apress Media
Apress Media is a technical and business publisher devoted to meeting the needs of IT professionals, software developers, programmers, and business leaders with more than 1,000 books in print and electronic formats. Apress provides high-quality, no-fluff content that helps serious technology professionals build a comprehensive pathway to career success. Since 2007, Apress has been part of Springer Science+Business Media, one of the world's leading scientific, technical, and medical publishing houses, enabling global distribution of Apress publications.
For more information about the innovative approach Apress takes to publishing, please visit http://www.apress.com.