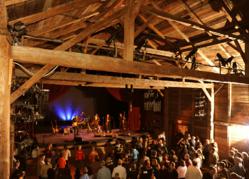 Vienna, Virginia (PRWEB) January 23, 2013
America's premier Irish folk ensemble, Solas, returns to The Barns at Wolf Trap after a six-year hiatus. Pending release in 2013 is their highly anticipated part-album, part-film Shamrock City, which uses audio and visual artistry to narrate the life of a young Irish immigrant as he makes his way in the United States during the Industrial Revolution. Derived from the experiences of band leader Seamus Egan's great-great uncle, Shamrock City captures the spirit of struggling immigrants striving to make a better life. Formed in 1994, Solas launched its career by playing in Irish pubs around New York City. Since then, the group has emerged as an Irish-American sensation and has released an astounding 10 records, featuring a fusion of Celtic classics and modern melodies. Spearheaded by group founders Seamus Egan and Winifred Horan, Solas combines varied instrumentation that includes guitars, violins, flute, tenor banjo, mandolin, accordions, concertina, bodhran, and more.
Video: Solas – No Forgotten Man
Solas
Thursday, February 7 at 8 pm
Friday, February 8 at 8 pm
$22
Often credited as the creator of the New Jersey sound, Southside Johnny Lyon, front man of The Ashbury Jukes, continues to entertain crowds as he joins forces with The Poor Fools. Unlike the Jukes' use of electric guitars and catchy hooks, The Poor Fools feature acoustic sounds and lesser-known folk songs by the likes of Bob Dylan, Muddy Waters, and Mose Allison. The spirit of camaraderie and prowess of musicianship can be witnessed on stage as the group passionately performs in an almost ad hoc style, by switching up instruments and rotating vocals. Choosing to perform in small venues across the United States with an appeal to their most dedicated fans, the band has set out to preserve the intimate experience of live performance and the rock 'n' roll routine. In the past, The Poor Fools have performed their own acoustic versions of "Sirens of the Night," "Hearts of Stone," and "I'm Down."
Video: Southside Johnny & The Poor Fools – Trapped Again
Southside Johnny & The Poor Fools
Saturday, February 9 at 7:30 pm
$27
Tickets can be purchased by calling 1(877) WOLFTRAP; or online at http://www.wolftrap.org.
For more information, call The Barns at Wolf Trap at (703) 938-2404 or our general information line at (703) 255-1900.