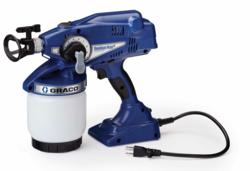 The new TrueCoat II sprayers deliver the features and performance of a professional paint sprayer but are designed to get small painting projects done faster and with less hassle.
MINNEAPOLIS (PRWEB) January 23, 2013
Graco Inc. (NYSE: GGG) today announced the launch of the TrueCoat® II and TrueCoat Plus II handheld sprayers, designed for homeowners who want the best spray finish available with new features that make small painting projects faster and easier from set-up to clean-up. The new TrueCoat II sprayers are ideal for smaller projects including walls, ceilings, trim, doors, siding, garage doors, fences, shutters and decks.
"The new TrueCoat II sprayers deliver the features and performance of a professional paint sprayer but are designed to get small painting projects done faster and with less hassle," said Kate Grathwohl, Graco Contractor Equipment Division (CED) Worldwide Product Marketing Manager. "Homeowners will appreciate the professional quality finish delivered in a sprayer that is so easy to use."
What's New?
The TrueCoat II features a new Optimal Spray Setting (pressure set at 2000 psi), that is preset at the factory and maintains the spray flow to reduce overspray and deliver a quality finish. This enables a more controllable spray experience for do-it-yourself users.
The TrueCoat Plus II now features the ProControl™ Spray Setting (variable pressure: 1000 – 2000 psi) that allows users to adjust the pressure to spray thin and thick materials and cover a wider variety of applications. This feature optimizes material output for each tip, material and application and improves control. The ProControl feature also reduces overspray at lower fluid pressure while enabling a higher production rate with thicker materials.
Both the TrueCoat II and TrueCoat Plus II sprayers feature the new Tilt-n-Spray Pendulum Suction Tube for a full range of motion while spraying up, down and sideways, while evacuating virtually all of the material from the cup for fewer refills.
Graco TrueCoat II and TrueCoat Plus II sprayers feature the patented ProSpray technology which delivers a professional finish in the palm of your hand. "With ProSpray technology and the newly added features, TrueCoat sprayers are the best choice for homeowners looking to get their small painting projects done fast!" Grathwohl added.
Both units are now fully-repairable and are available at home centers and professional paint retailers across North America. The TrueCoat II model supports .011 - .015 reversible tips and include the Tilt-n-Spray Material Cup with five liners, one 515 TrueCoat Reverse-A-Clean® (RAC®) Tip, Pump Armor™ Storage and Start-Up Tool and instructional DVD. The TrueCoat Plus II version includes the ProDurance™ Piston Pump that lasts twice as long as the TrueCoat II sprayer. It supports a .011 - .017 reversible tip and also comes with a shoulder strap and cup cover. Additional accessories such as extensions and the 1 gallon ProPack portable spray pack are also available for the TrueCoat II models and other Graco handheld paint sprayers.
For more information on the Graco TrueCoat II and TrueCoat Plus II electric airless handheld sprayers and all Graco paint sprayers, including store locations, spraying tips, sprayer specifications and accessories for each sprayer, features, benefits and usage recommendations, please visit http://www.graco.com/contractor.
About Graco:
Graco Inc.'s Contractor segment designs and markets sprayers to apply architectural coatings such as paints, stains and texture materials as well as sprayers for line striping and pressure cleaning applications. The segment supplies products through a worldwide network of distributors that sell to homeowners, trades people and contractors in the painting, roofing, texture, corrosion control and line striping markets. Graco has earned the annual Frost & Sullivan United States Paint Contractors' Choice award for "Overall Best Brand of Spray Equipment" since its inception in 2007.
Graco Inc. supplies technology and expertise for the management of fluids in both industrial and commercial applications. It designs, manufactures and markets systems and equipment to move, measure, control, dispense and spray fluid materials. A recognized leader in its specialties, Minneapolis-based Graco serves customers around the world in the manufacturing, processing, construction, and maintenance industries. For additional information about Graco, please visit us at http://www.graco.com.
-2-
Media Contacts:
Jodi Ehlers Swanson 612-623-6217 or jswanson(at)graco(dot)com
Kathleen Crandall 612-327-6336 or kathleen(at)crandallcommunications(dot)com