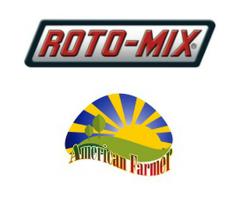 Dodge City, KS (PRWEB) January 24, 2013
ROTO-MIX announced today that they will be featured in an upcoming episode of American Farmer.
ROTO-MIX manufactures a complete product line of Beef or Dairy Feed Mixers, Forage Express Mixers, ROTO-MIX Hay Pro, Oswalt Mixers, Vertical Mixers, Feeder Delivery Boxes and Compost Mixers for Commercial and Industrial Applications. ROTO-MIX also manufactures Roto-Spread® waste disposal in truck or trailer units.
This particular episode of American Farmer will focus on ROTO-MIX's innovative livestock feed mixers. Audiences will be amazed by the 27 different models of feed mixers available for truck trailer or stationary use in beef, dairy, and all other livestock concerns.
"We are very happy to have been selected for this episode of American Farmer," said Mike Hilderbrand, ROTO-MIX President. "Our rich American heritage, history of trailblazing innovation, and long-standing ties to the livestock industry give us an interesting and compelling story to tell. With so many of our Country's manufacturing jobs and factories having moved off-shore in recent years, we are extremely proud to still be able to put the Stars and Stripes along with the words 'Made in the U.S.A.' on every ROTO-MIX machine we make."
"ROTO-MIX products are produced here in the U.S.A.," said Charlie Cowan, Producer for the American Farmer series. "I'm excited for our viewers to see ROTO-MIX's dedication to the industry, as well as their passion about creating American-made products."
About ROTO-MIX:
ROTO-MIX is a leader in the design and manufacture of livestock feed mixing and feeding equipment, compost mixing equipment and manure spreaders. The company was founded in Dodge City, Kansas by Ben Neier and Bill Pullen in 1984 and has a history of leadership and innovation as the premier livestock feeder and mixer equipment manufacturer. ROTO-MIX has two manufacturing facilities, both in Kansas, and over 125 authorized dealers in addition to its own retail locations providing sales and service in the U.S. and 35 international markets.
For more information visit http://www.rotomix.com or call (620) 225-1142.
About American Farmer:
American Farmer is a breakthrough program on a mission to showcase the latest advancements in agriculture and farming. From seed to harvest, livestock and more, our producers have traveled the country covering the people, places and issues impacting all areas of farm country.
For more information, visit: http://www.americanfarmertv.com or call (866) 496-4065.
Media Contact:
Charlie Cowan, Producer
(866) 496-4065 x 875