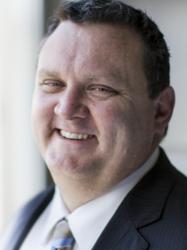 "Michael's business aptitude and proven track record in SaaS and solution based selling made him the obvious choice to lead our sales team as we move towards a more cloud-based product solution." - Jeff Peres, Eyemaginations President and CEO
Baltimore, MD (PRWEB) January 24, 2013
Leading patient education provider Eyemaginations is pleased to announce the appointment of Michael Irving as the new Vice President of Sales. An accomplished professional with more than 15 years of software sales management experience, Mr. Irving will be responsible for developing and overseeing all sales functions within the company.
"We are thrilled to have Michael join our team," said Jeff Peres, president and CEO of Eyemaginations. "His business aptitude and proven track record in SaaS and solution based selling made him the obvious choice to lead our sales team as we move towards a more cloud-based product solution. His proven ability to drive results in innovative ways will be instrumental as we expand our product line and grow our company."
Prior to joining Eyemaginations, Michael held various leadership roles for both Fortune 1000 and SaaS start-up companies before joining Eyemaginations. In these positions, he led all selling activities for multiple divisions and oversaw the design and execution of strategy, talent acquisition and development, new market entry and revenue growth both domestically and internationally. He achieved President's Club status throughout each level of his career that recognizes outstanding professionals for exceeding goals and achieving top revenue targets. In his role as Senior Director of Sales at Vocus, he was responsible for expanding growth in his division by 140% and increasing performance per sales associate by 24%. He also set the historical record for highest annual revenue and held that title for two consecutive years. Michael has also held senior positions at such other companies as CareeerBuilder.com and Mobil Oil.
Michael earned a Bachelor of Science degree from the University of Maryland. He is also a graduate of the Corporate Leadership Training Program from Dale Carnegie Training.
About Eyemaginations
Eyemaginations, Inc. is a healthcare media company focused on solutions that support professionals, patients and corporations in communicating and understanding complex topics. The company's in-depth experience with animation, design and software has enabled Eyemaginations to create integrated systems that provide clear and concise education solutions. Eyemaginations has a portfolio of products that are focused on eyecare, ENT, audiology and facial aesthetics. Eyemaginations may be reached by phone at 1.877.321.5481, email at info(at)eyemaginations(dot)com or online at http://www.eyemaginations.com.