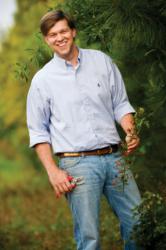 This appointment marks a momentous occasion for us...Our Society was founded by those with multifaceted talents such as James' and we hope to return to such variety
Napa, CA (PRWEB) January 24, 2013
In its nearly 70 year history, never has the American Camellia Society been represented by a national spokesperson, until now. On January 31, James Farmer will be named the National Spokesperson for the American Camellia Society (ACS) at their National Convention & Camellia Show in Napa, CA.
Farmer, perhaps best known for his Wall Street Journal best-selling book, A Time to Plant, is also a gardener, floral and interior designer, cook and garden-to-table lifestyle expert. He has been featured on the Today Show, is editor-at-large for Southern Living magazine and has penned three additional books, Sip and Savor, Porch Living and Wreaths for All Seasons.
Robert Harden, Director of Advancement for the American Camellia Society, is looking forward to this partnership. "This appointment marks a momentous occasion for us," he said, "Traditionally we have only recognized individuals for their extensive work with camellias or for their dedicated service to the ACS. Our Society was founded by those with multifaceted talents such as James' and we hope to return to such variety."
According to Harden, Farmer was selected for his knowledge and experience in horticulture and his passion for landscape and interior design but especially for his infectious, youthful personality.
Farmer's hometown roots connect him to his newly granted position. He explains, "Camellias were an early influence on my horticultural interests because they are one of our family's favorite flowers and the official headquarters of ACS is not far from my hometown of Kathleen, GA."
James is tasked with building awareness for the Society. His rapidly growing national brand will provide exposure that will increase awareness for the ACS, boost membership enrollment, and spread appreciation for the beauty and versatility of the camellia.
The 2013 ACS National Convention & Napa Valley Camellia Society Show runs from January 30-February 2. During the convention Farmer will have three important appearances.

The naming of Farmer as the National Spokesperson by ACS Trust President, Larry Barlow. Thursday, January 31, from 5:30 pm - 7:00 pm
The ribbon cutting ceremony to commence the start of the show. Farmer will be signing books. Saturday, February 2, 1:00 pm
Farmer will deliver the keynote address for the convention banquet. Sat, February 2, 6:00 pm-9:00 pm
For images or to set up interviews, contact Katie Dubow Katie(at)gardenmediagroup(dot)com or 610-444-3040