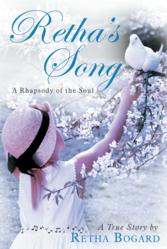 Mental health issues are a distraction, but they don't have to ruin your life.
Highland Park, IL (PRWEB) January 24, 2013
The mind may play tricks on all of us, but it becomes all too pervasive when struggling with the effects of bipolar disorder.
In her new nonfiction book Retha's Song, author Retha Bogard journeys her remission from bipolar disorder. After a decade-long struggle of mental illness, she lives a healthy, stable life.
"Despite the highs and lows, I never lost sight of God's greater plan for me," says Bogard. "Mental health issues are a distraction, but they don't have to ruin your life."
A successful musician, Bogard says that although she partially credits therapy and medicine for regaining control, it's her unorthodox system of faith that's moving her forward.
By confronting her triggers head on, she says she's now able to balance family, work and mental wellbeing without worrying about the extreme mood swings that once inhibited her.
"During my darkest hours, I learned love, faith and compassion are the essential ingredients of healing," says Bogard. "I see the divine essence is the greatest healer of all."
Retha's Song
By Retha Bogard
ISBN: 978-1-4525-5192-0
Softcover retail price: $28.99
Hardcover retail price: $43.99
E-book price: $3.99
About the author
Retha Bogard has been in remission from bipolar disorder for 13 years after a decade-long struggle. In the early stages of the disorder, doctors diagnosed her son with Crohn's disease, an inflammatory intestine disease that's nearly taken his life. She says their faith and determination help them persevere. A classically trained pianist, vocalist and songwriter, Bogard recently released her first album, Come to Me Spirit. She studied music with a prestigious choral group directed by John Davidson in her youth and continues to enjoy composing and recording music in the studio.