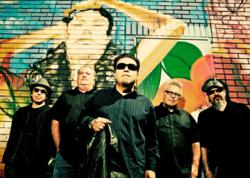 "That took us out of our comfort zone and allowed us to do what we hadn't done in quite some time: to play together in the same room, as one. This was not about putting your feet up; this was about working."
Napa, CA (PRWEB) January 23, 2013
More than three decades have passed since Los Lobos released their debut album, Just Another Band from East L.A. Since then they've repeatedly disproven that title—Los Lobos isn't "just another" anything, but rather a band that has consistently evolved artistically while never losing sight of their humble roots.
For Tin Can Trust—Los Lobos' first release for Shout! Factory and first collection of new original material in four years—the venerable quintet reconnected directly with those roots by returning to East L.A. and recording at Manny's Estudio, "in a rundown neighborhood," says Los Lobos songwriter/multi-instrumentalist Louie Pérez. "That took us out of our comfort zone and allowed us to do what we hadn't done in quite some time: to play together in the same room, as one. This was not about putting your feet up; this was about working."
A rare example of longevity in a volatile music world that stresses style over substance, Los Lobos' lineup has remained uninterrupted since 1984, when saxophonist/keyboardist Steve Berlin joined original members Pérez, Hidalgo, Rosas and Lozano, each of whom had been there since the beginning in 1973.
Tickets for Los Lobos are $35/45 They are on sale now and can be purchased through the theatre website at http://www.uptowntheatrenapa.com, at Ticketmaster (http://www.ticketmaster.com) or at the theatre box office (please call 707.259.0123 ext. 6 for hours). To find out more, please visit http://www.uptowntheatrenapa.com.
The Uptown Theatre Napa is downtown's ultimate destination for live concerts. Nestled in the famed West End district, this stunningly restored art deco masterpiece showcases only the finest acts, featuring music, comedy and more. An historic landmark, the Uptown offers a phenomenal, intimate live show experience, with excellent site lines and world class sound and lighting. As concert venues go, this is the place to be. Every seat is a great seat so buy concert tickets now.