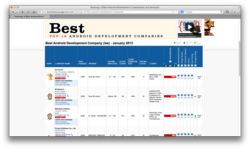 "We're extremely pleased with the app ArcTouch created for us," said David Goldenberg, product lead for the PS Evolver app. "ArcTouch's app experts are the best we've ever worked with, and I highly recommend them."
San Francisco, CA (PRWEB) January 24, 2013
ArcTouch is pleased to announce their selection as the best mobile app development company in the world by Best Web Design Agencies. After an extensive evaluation process of top app developers, ArcTouch was chosen as the #1 Android app developer and the #2 iPhone app developer.
ArcTouch is a premier app development studio that has created over 150 smartphone and tablet apps for the Fortune 500, leading brands, media & entertainment companies, world-class marketing agencies, and the hottest startups.
Recent projects include:

PS Evolver for Popular Science (iPad) – see human evolution in a whole new way!
Aerospace Business Jets for Honeywell (iPad) – winner of Salesforce "Best In Show" 2012!
Money Transfer for Xoom (Android) – the #1 money transfer service in the world!
Star Star Me for Zoove and Verizon (Android) – get your personal **me number!
"We're thrilled to be selected as the best app developers in the world for iPhone app development and for Android app development," said Joseph Carrolo, President of ArcTouch. "Our world-class team of app developers and designers are laser focused on delivering stunning apps with superior quality to our customers."
ArcTouch's expertise spans from app strategy and user interface design, to development and testing, to deployment in app-stores and ongoing support. ArcTouch has extensive platform experience with apps for iPhone, iPad, Android, Windows Phone, BlackBerry and HTML5 web apps.
"We're extremely pleased with the app ArcTouch created for us," said David Goldenberg, product lead for the PS Evolver app. "ArcTouch's app experts are the best we've ever worked with, and I highly recommend them."
In this highly competitive market, Best Web Design Agencies identifies app development companies through a reliable evaluation process developed over years of experience and research. Focusing on three points of assessment: user interface design, development quality, and app-store acceptance, ArcTouch surpassed its competitors on all accounts.
To see their full portfolio and get a free estimate for an app development project visit http://arctouch.com/portfolio
###
About ArcTouch App
ArcTouch is a full-service app development company for hire. ArcTouch's expert app developers have created over 150 app projects for Fortune 500 companies, world-class brands, and leading agencies, such as Walmart, Merck, Honeywell, AKQA, R/GA, Sony, CBS, Salesforce, Travelocity, and MillerCoors. ArcTouch's apps have received numerous awards, been featured in the app stores, noted as staff favorites by Apple, Google, and RIM, and have reached the #1 spot in various categories.