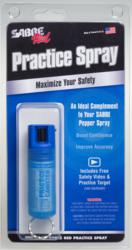 A High stress situation is not the time to learn how to deploy your pepper spray!
(PRWEB) January 30, 2013
We have all had that dream where something very scary is about to happen to us and we try to scream, but nothing comes out. Fortunately, we regain consciousness and we are safe. A real life nightmare would be if you were attacked while carrying pepper spray and were not prepared to use it! Only this situation would have more dire consequences than waking up in the middle of the night after an unfortunate bout of laryngitis!
Now, Security Equipment Corporation, manufacturer of SABRE and SABRE RED Pepper Sprays, is launching its line of SABRE Practice Sprays to better prepare individuals to use their pepper spray effectively in a high stress situation. Think about it: martial artists practice for years to master their craft and police forces, such as the NYPD, require their recruits to deploy several thousand rounds of ammunition before they are able to graduate the academy. One must make sure they know how to use and are ready to use their pepper spray before they face a dangerous threat!
As the economy struggles, there has been an increase in aggravated assaults and more attention and focus placed on personal safety. The SABRE Practice Sprays provide an opportunity for individuals to obtain critical muscle memory allowing them to perform effectively under stress. By preparing with SABRE Practice Sprays, users will become familiar with how to grip the canister properly, how to operate the safety device, and how to use the proper spray technique.
In addition to receiving the SABRE Practice Sprays, customers will receive a free safety video teaching them techniques to outsmart and discourage potential threats and a video which teaches proper spray techniques. SABRE Practice Sprays help users obtain critical familiarity of the function, feel and the distance the sprays will deploy. Training with SABRE Practice Sprays boosts confidence, improves accuracy and helps maximize the personal safety of those that carry pepper spray.
Be Prepared, Not Scared! View the promotional video here:
http://www.youtube.com/watch?v=MUbIiQpTNVg&list=UU3Mdc2BISFPanumpjrXPX0w&index=4 and visit http://www.sabrered.com/practice-spray/ to learn more about a low cost way to maximize your personal safety.
Since 1975, SABRE and SABRE RED brands have been manufactured in the USA by industry leader Security Equipment Corporation (SEC). SEC is the leading pepper spray producer for civilians and law enforcement worldwide. SEC has trained over 4,500 law enforcement agencies throughout the world. In 2008, SEC established the SABRE Personal Safety Academy, which trains civilians how to prevent attacks as well as how protect themselves at a safe distance with pepper spray. In 2011, SEC launched the SABRE College Safety Program which supports the charity RAINN, Rape Abuse & Incest National Network.