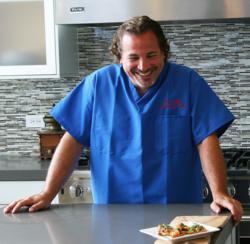 Spring Hill, FL (PRWEB) January 23, 2013
The Grassroots Gourmet, Dr. Mike-chef and cardiologist Michael S. Fenster, M.D. - will give a presentation on Food and Obesity followed by a mouth-watering cooking demonstration at The Residence at Timber Pines on Wednesday, January 30th at 2:00pm (Eastern). The cooking demo will be followed by a meet and greet book signing. Participants can join the event, focused on eating well and living better, either in person or via the web. The demonstration will be broadcast live by The Health and Wellness Channel on the web at http://www.hwchannel.com/HWC-Live. There will be a live tweet chat where Dr. Mike will answer real time questions regarding gourmet cooking, health, wellness, nutrition and "Eating Well, Living Better."
The event is sponsored by the Health & Wellness Channel®, Brooksville Regional Hospital, Hernando Today, Horizon Homecare, Island Grove Wine Company and Maple Leaf Farms®. The Residence at Timber Pines is located at 3140 Forest Road Spring Hill, Florida. For more information on the event, visit http://www.whatscookingwithdoc.com.
ABOUT DR. MIKE FENSTER, M.D., F.A.C.C., FSCA&I, PEMBA
Dr. Mike Fenster, M.D., F.A.C.C., FSCA&I, PEMBA, combines his culinary talents and Asian philosophy with medical expertise, creating winning recipes for healthy eating. Known to his audiences as "Dr. Mike," he has frequently presented live cooking demonstrations, lectures at meetings like national American Culinary Federation as well as giving numerous radio and television interviews on health and food, both nationally and internationally. He is the host of the upcoming television program,"Just What the Doctor Ordered" slated to air on The Health and Wellness Channel.
In addition to cooking professionally in the past, Dr. Mike has managed an award winning restaurant, participated in numerous clinical research trials and achieved the rank of Assistant Professor of Medicine. In addition to his recent book, he has written columns for numerous publications like The Atlantic Magazine as well as culinary magazines and websites and is a monthly contributor for The Tampa Tribune. For more information visit his website, http://www.whatscookingwithdoc.com. You can find his book, "Eating Well, Living Better: The Grassroots Gourmet Guide to Good Health and Great Food" on Amazon.com.