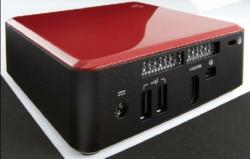 We saw the possibilities and benefits to schools immediately and used our expertise to develop custom NUCs that will maximize benefits for our clients.
ADDISON, Ill. (PRWEB) January 24, 2013
What if schools could convert their computer labs into much-needed classroom space, be nearly immune to technology theft and save money in the process? Ace Computers' tiny, but powerful Vision Pico NUC micro desktops promise just that and much more for a price that leaves laptops in the dust. The basic palm-sized device includes a motherboard, processor and case, but no memory, storage or operating system. Custom upgrades are nearly limitless.
Ace Computers' new Vision Pico is based on Intel's cutting-edge Next Unit of Computing (NUC) technology. The NUC features an Intel Core i3 processor in a highly customizable package. Like all Intel mobile CPUs it uses the full Intel HD 4000 GPU. The benefits to schools include:

Less Need for a Computer Lab: Since the Vision Pico NUC is both highly portable and can be unobtrusively installed on an individual desk—it seamlessly brings computing power into the classroom.
Less Vulnerability to Theft: The NUC can be bolted in place (for example the underside of a desk).
Smaller Footprint: At roughly 4.6 by 4.4 by 1.5 inches these devices free up precious surface space.
Significantly Less Energy Draw: The entire system consumes less than 50W of power. This means "always on" is not a problem.
Rugged: The tough case and quality components make this device hard to damage.
Lower Price: When compared with a laptop…the Vision Pico NUC with either a touchscreen monitor or monitor and keyboard, still comes out ahead.
John Samborski, Ace Computers' CEO said, "Our long-term partnership with Intel is a major reason that we stay on the cutting-edge. The Vision Pico NUC is a great example. We saw the possibilities and benefits to schools immediately and used our expertise to develop custom NUCs that will maximize benefits for our clients."
Typical Vision Pico NUC specs include:

Processor: Intel® Core i3-3217U (soldered down)
Chipset: Intel QS77 Express Chipset
Memory: Dual channel SODIMM DDR3 1066/1333 MHz; 2 SODIMM, 16GB maximum
Graphics: Dual HDMI
Expandability: 2 x PCIe mini slots (1x half-length & 1x full/half-length); 2 x Internal USB 2.0 via 2x5 header; 2 x USB 2.0 connectors on back panel; 1 x USB 2.0 connector on the front panel
Connectivity: Intel 10 / 100 / 1000 Network Connection
Additional Features: Windows 7 and Windows 8 logo; wireless option via mini PCIe card; Bluetooth option via mini PCIe card; supports new mobile SATA (SSD) card via full-length PCIe mini card; compatible with Linux (Fedora, Ubuntu, OpenSUSE); 19V DC power input (external power supply)
While there are no analog audio connectors, audio output can be routed through an HDMI port. To find out more, visit Ace Computers' website: http://www.acecomputers.com.
Multiple award-winning Ace Technology Partners (Ace Computers) is a Woman-Owned Small Business custom technology systems builder and reseller for the public sector as well as the commercial sector. It has been an industry leader since 1983. In addition to some of the finest academic institutions in the U.S., long-term clients include the U.S. Department of Energy and the U.S. Department of Defense. Ace Computers builds custom technology with the same components that top manufacturers use without the premium price. Its principal, recognized industry expert John Samborski, is an alumnus of Intel's prestigious board of advisors. In addition to its Greater Chicago headquarters, Ace Computers has locations in New Jersey, Wisconsin, Minnesota, Idaho, and Nevada. To contact Ace Computers, call 1-877-223-2667 or 1-847-952-6900 or visit http://www.acecomputers.com.
###
For media inquiries, contact Jean Van Rensselar at Smart PR Communications;
630-363-8081; jean(at)smartprcommunications(dot)com.
Visit the Media Room at: http://acecomputers.com/MediaRoom.asp
Multiple award-winning Ace Technology Partners (Ace Computers) is a Woman-Owned Small Business custom technology systems builder and reseller for the public sector as well as the commercial sector. It has been an industry leader since 1983. In addition to some of the finest academic institutions in the U.S., long-term clients include the U.S. Department of Energy and the U.S. Department of Defense. Ace Computers builds custom technology with the same components that top manufacturers use without the premium price. Its principal, recognized industry expert John Samborski, is an alumnus of Intel's prestigious board of advisors. In addition to its Greater Chicago headquarters, Ace Computers has locations in New Jersey, Wisconsin, Minnesota, Idaho, and Nevada. To contact Ace Computers, call 1-877-223-2667 or 1-847-952-6900 or visit http://www.acecomputers.com