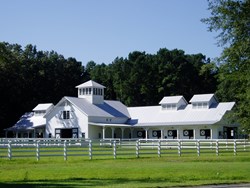 Best Equestrian Community of the Year - The Ford Plantation
Savannah, Georgia (PRWEB) January 23, 2013
Real Estate Scorecard, a leader in online real estate reviews, announces its 2013 Bliss Award for Best Equestrian Community of the Year - The Ford Plantation.
The first time I visited The Ford Plantation, I was mesmerized by the scenic beauty which remains vivid in my mind. The Ford Mansion, a colonial style home overlooking Lake Clara, was Henry Ford's winter escape and is as beautiful as ever. The Ford Plantation is a luxury Savannah neighborhood which combines golf, boating, equestrian, fitness and a full service spa into the lifestyle options available for property owners to enjoy. Its private championship golf course was designed by the legendary Pete Dye with two distinct nine-hole challenges. The front nine is designed around 250 acres of freshwater lakes, and the back nine is a Low Country links style course, with holes placed among the Plantation's original rice fields. From the marina, the winding Ogeechee River leads boaters out to the Atlantic Ocean via the Ossabaw Sound.
With all the grandeur, it was the equestrian amenities that kept my attention because there are only a handful of best master planned communities on the east coast who cater to horse lovers. Ford's first class equestrian center is splendid. The 22 stall barn has all the bells and whistles you'd expect from a full service boarding facility. As we drove through The Ford Plantation, crisp white fences lined the spacious riding arena, grassy paddocks and turf jump field. There are 10 miles of waterfront horse trails that meander throughout the property, including around Lake Clara and the Ogeechee River. Equestrian programs at The Ford Plantation include riding lessons for all ages, disciplines, off property trail rides, Equestrian Excursions, educational clinics, participation in local competitions, fun events such an Equine Art Show, the Equine Connection program, Horses 101 and the ever-popular Pony Play Days for kids.
The Ford Plantation is one of the finest Equestrian Communities in the Lowcountry. This Savannah neighborhood features southern style architecture and offers a variety of home style choices starting at $1 million, from golf course homes to homes adjacent to the marina, or large equestrian home parcels. In 2012, the Ford Plantation sold 15 properties and 7 of those were to equestrians. All of the families have expressed that Ford's beauty, the quality of care, professional instruction, and personal attention provided by the outstanding equestrian staff and facilities were a determining factor in joining The Ford Plantation community.
If your best friend includes a horse, don't miss considering The Ford Plantation as your new home address.
To see all of Real Estate Scorecard's 2013 Bliss Award winners, visit
http://realestatescorecard.com/breaking-community-news/best-community-of-the-year-2013-bliss-awards
About Real Estate Scorecard
Real Estate Scorecard in an unbiased real estate review website providing in depth information about the best master planned communities in Florida, Georgia, North Carolina, South Carolina and Tennessee, all in an effort to help people discover where to retire. Website address: http://realestatescorecard.com