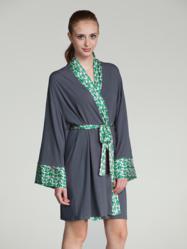 "Pantone, the authority on color, describes emerald green as 'lively, radiant, lush…a color of elegance and beauty that enhances our sense of well-being, balance and harmony'. It sounds perfect for inducing relaxation."
San Francisco, CA (PRWEB) January 24, 2013
Doie Lounge, a Los Angeles-based line of eco-friendly, locally made, luxurious bamboo robes, has just released the "Lucie" robe as a new, emerald-trimmed selection in the 2013 assortment. Designed by world-renowned print designer Talla specially for the Doie customer, the print is exclusive to the Doie Lounge line. The chic gray Lucie robe is trimmed in an emerald green floral print on a white background, honoring Pantone's color of the year.
Doie Lounge Founder Sara Kirsner commented on the color addition, "Pantone, the authority on color, describes emerald green as 'lively, radiant, lush…a color of elegance and beauty that enhances our sense of well-being, balance and harmony'. It sounds perfect for inducing relaxation."
As the color of the year, it will no doubt appear in many weddings, which is why Doie Lounge decided to add the Lucie robe to the Trixie and Millie robes that already offer emerald green. Kirsner said, "All three robes have grown in popularity as bridesmaid gifts for upcoming 2013 weddings. Brides world-wide are generously thanking their nearest and dearest with these robes."
The Trixie and Millie robes, a staple in the Doie Lounge collection since the company's inception, are both predominantly emerald green with pops of color—black and white (Trixie) and pink and white (Millie), silk trim. Both robes feature the Doie Lounge exclusive bonsai print, designed by Australian print designer Lara Cameron.
The Doie Lounge Lilian robe is featured in the current issue of Inside Weddings Magazine. Doie Lounge robes have also been featured on several wedding websites such as Ruffled, Style Me Pretty, Grey Likes Weddings, Emmaline Bride, Survive Wedding Season, Inside Weddings, Snippet and Ink, as well as non-bridal sites such as Us Weekly, Heidi Klum on aol, and Giuliana Rancic's FabFunFit. Elle Shapiro of Survive Wedding Season described the robes as a "smashing, can't-miss bridesmaid gift for ladies who love luxury."
Doie Lounge robes are made from earth-friendly fabrics that pamper the skin and are manufactured in Los Angeles, CA. The entire assortment is available online at: http://www.doielounge.com