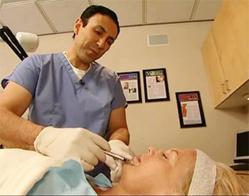 The percentage of male patients in my practice has been increasing for several years.
Los Angeles, CA (PRWEB) January 23, 2013
ABC News recently reported on a 56-year-old truck driver from Blackwood, N.J., opting for his first-ever Botox treatment so that he can look his best for the upcoming weddings of his three daughters. (go to: goo.gl/mUfSL).
"Maybe this is a recent development in Blackwood, N.J. and perhaps we're trend setters in Beverly Hills," says Dr. Ourian, "but the percentage of male patients in my practice has been increasing for several years now. And it's not only for Botox, but for laser skin resurfacing, acne scar removal, and a host of other issues."
Botox injections are often imagined as a feminine resort when age takes its toll and wrinkles form. However, men are increasingly turning to this simple treatment to reverse the signs of aging. The men who do so are not necessarily the kind of men with whom you confuse traits such as vanity or delicacy.
The growth in acceptance of Botox treatment for men is noticeable. According to Dr. Ourian, "the number of Epione's male patients has spiked over the past few years. And I don't foresee an end to this trend." Men tend to seek out these injections later in life than women, who generally start trying out Botox in their late twenties in order to fend off the first crow's feet. Instead, men come in to such clinics in their late thirties.
There are probably a couple of reasons for this trend. Men may be coaxed slowly into the idea by their girlfriends and wives. When they see the women in their lives achieving good results, it may seem like there is no harm in trying it out.
A second group that partakes of Botox is the professional crowd. These men do not want their worry lines and furrowed brows to leave them looking angry or exhausted. Some know that their promotions count on their looks. A third group are those men who have become single in middle age and are anxious to look young as they seek out new partners.
Epione Beverly Hills offers numerous treatments for men including acne scar removal, laser hair removal and Botox.