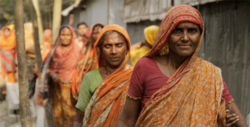 "I'm nervous because once I go…once I see…once I live this journey….I can't pretend it doesn't exist anymore," writes blogger Logan Wolfram about the trip.
Phoenix, AZ (PRWEB) January 23, 2013
In an effort to give a first-hand perspective to millions of readers around the world, Food for the Hungry (FH) is launching its second blogger trip, January 24-31, 2013, to Bangladesh. Five top Christian bloggers will embark on a journey through several communities where FH provides much needed training and resources through child sponsorship.
The bloggers on the trip are: Lauren Dubinsky (@LaurenDubinsky) of laurennicolelove.com/blog; Max Dubinsky (@MaxDubinsky) of makeitmad.com; Joy Eggerichs (@JoyEggerichs) of loveandrespectnow.com; Logan Wolfram (@lifefordessert) of lifefordessert.com/; Esther Havens, trip photographer (@estherhavens) of estherhavens.com; Lindsey Nobles (@linseynobles) of lindseynobles.com and Daniel C. White (@DanielCWhite) of danielcwhite.com.
Bangladesh is one of the world's poorest countries. Approximately 82 percent of population lives on less than two U.S. dollars a day.
In 1972, Food for the Hungry (FH) began working in Bangladesh to fight poverty by distributing rice to the poor. Over the last 40 years, FH has partnered with Bangladeshi leaders and impoverished communities to create better living conditions through teaching farming techniques, creating clean water wells and healthy sewer systems, providing educational support for children and teens, improving nutrition, launching malaria prevention and treatment programs and creating income generating groups.
Throughout the trip, each blogger will write about their experiences of meeting Bangladeshi people and seeing innovative solutions for overcoming poverty—as well as introduce some of the children they meet along the way. The group hopes to raise awareness of FH's child sponsorships by engaging their readers in a ground-level perspective of the daily lives of Bangladeshi children.
"I'm nervous because once I go…once I see…once I live this journey…I can't pretend it doesn't exist anymore," writes blogger Logan Wolfram about the trip. "But the truth is that once you really come face to face with the hard reality of life in most of the rest of the world, you HAVE to do something about it. … And I'm excited about what that different will look like, but I'm nervous about it too."
The bloggers will also be hosting a live twitter chat (#fhbloggers) at 7 p.m. (CST) on Monday, January 28, allowing people around the world to ask the bloggers questions about what they have seen and experienced up to that point, as well as win prizes from the areas in which bloggers are traveling. The blogger Twitter chat from an FH Blogger trip to Ethiopia put "Ethiopia" and #fhbloggers on Twitter's coveted trending topics list.
Visit http://www.fhbloggers.org to follow them along their journey.
###
Founded in 1971, Food for the Hungry provides emergency relief and long-term development programs in more than 20 countries to help the world's most vulnerable people. Learn more by visiting http://www.fh.org. Social connections include http://www.facebook.com/foodforthehungry and http://www.twitter.com/food4thehungry.