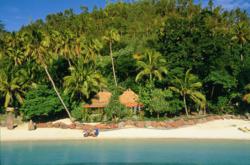 "When I saw this auction I knew it was destiny! I couldn't be happier that the proceeds are going to the villagers. We fell in love with the Fijian people when we were there!" said Danika.
Yasawa Islands, Fiji (PRWEB) January 23, 2013
The world-renowned, luxury resort Turtle Island has long been committed to proactively supporting its local communities and providing resources for the seven villages that make up the Yasawa Island chain where Turtle Island is located. Most recently the resort held three online auctions to sell luxury, all-inclusive vacations, the entire proceeds of which will go directly to benefit local villagers in an effort to assist clean-up and rebuilding efforts in the wake of Cyclone Evan, which hit the Fijian Islands in December 2012.
One of the auctions, all held on Luxury Link, was won by former guest Danika Shipman of Pottsboro, Texas. "I've dreamed of going to Turtle Island for 30 years, since I was only six!" said Danika. "My husband made my dream come true in November of 2012 and Turtle was everything and more than I hoped it would be and I vowed to return at any cost. When I saw this auction I knew it was destiny! I couldn't be happier that the proceeds are going to the villagers. We fell in love with the Fijian people when we were there."
The proceeds of the online auctions will be put to good use helping repair homes and provide short and long-term support for seven local villages in the Yasawa Island chain. Short-term assistance was given by providing food and taking inventory and photos for villagers who lost homes, in addition to providing temporary employment for 23 villagers in an effort to clean up the resort. Long term assistance to the villages will consist of the following: purchasing temporary tent homes for those who lost their dwellings, purchasing building materials for the reconstruction of several homes, providing employment to villagers in need of income and providing Turtle Island staff extra bonuses to alleviate some of the financial burden of the cyclone.
Turtle Island has a long history of community involvement. The resort provides financial assistance, food and scholarships to their seven local villages, as well as providing many jobs. Additionally the resort has conducted health clinics in the disciplines of women's health, ophthalmology (operating on cataracts) and dental. Many of these initiatives continue as part of Turtle Island's commitment to provide real, tangible benefits for local people. Owner Richard Evanson has always believed that you obtain your "license to do business" from your local community, and being a contributing member to the fabric of that community is critical.
More information on Turtle Island's sustainable efforts and community involvement can be found at http://www.turtlefiji.com.
About Turtle Island
Turtle Island's award-winning resort experience is considered the ultimate romantic hideaway, offering couples stunning natural beauty, romance and seclusion. Nestled in the Yasawa Islands just 30 minutes from Nadi by seaplane, the resort features 14 private, beachfront Fijian-style bures, gourmet dining, fine wines and champagnes, as well as activities such as horseback riding, sailing, scuba diving, snorkeling, reef fishing, kayaking and windsurfing. Rates begin at $2,499 per couple per night.
For more information, contact Turtle Island by calling 1-800-255-4347 or visit http://www.turtlefiji.com.