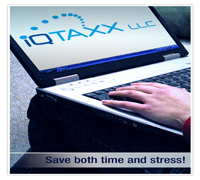 Las Vegas, Nevada (PRWEB) January 23, 2013
An income tax preparation company offering comprehensive services, IQTAXX recently made the announcement that it is now providing advice to consumers on easy ways to recognize phishing scams in which the perpetrator pretends to be associated with the IRS. The professional staff members of this company are available during normal business hours to discuss this potentially dangerous scenario.
Believing that "Every taxpayer has the right to protect their personal identity and safeguard their financial assets from fraudsters," IQTAXX offers advice on how to avoid getting tricked by swindlers who are attempting to steal private information. This income tax preparation company strives to provide its clientele with the highest level of customer service, which has led to their desire to assist residents in the avoidance of unnecessary financial stress as it relates to identity theft and phishing scams.
A comprehensive income tax preparation company serving with Tax Services Las Vegas and surrounding areas, IQTAXX employs competent professionals who have the expertise to competently resolve a diversity of tax-related issues. A full range of tax preparation services, including electronic filing, paper filing, audit assistance, and refund anticipation loan services are available at the offices of IQTAXX. Their business website includes a list of other tax-related services.Las Vegas Tax Services Provide outstanding support anytime a client walks in. Tax education and added resources designed to answer specific questions regarding tax matters can be found on their Learning Center.
IQTAXX-Las Vegas Tax Professionals
6620 West Flamingo Road Suite 3
Las Vegas, NV 89103
702.871.7884
702.933.3127 (Fax)
http://Iqtaxx.com