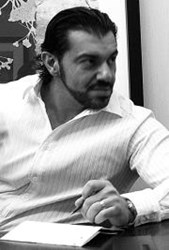 Every Step of the Recipe Is Important
Chino Hills, CA (PRWEB) January 24, 2013
"As a personal trainer it is imperative to understand the clients wants because not only is that what's going to change their lives, it's what's going to get you the sale", says Bedros.
People buy for emotional reasons not logical ones. Even though most people try to justify their purchase through reason and logic, statistics show this is not the case. On the website http://ptpower.com Bedros goes into detail about how to make a sell. He offers resources and step by step guides through his variety of books, DVDs, and quality content. He talks about how people buy for emotional reasons and what their hot buttons are. He explains that just like any good recipe there is actually a recipe for the art of selling fitness.
Personal trainer marketing is one of the first steps in getting a prospect in the door. Without good marketing a trainer cannot determine the wants of his potential client. There are many strategies to fitness marketing which can also be viewed at PTPower.com.
Once a personal trainer or boot camp owner has the marketing strategies down and prospects begin inquiring about their program, then the trainer can apply the 7 Steps in the Recipe for Selling Fitness. Whether the trainer operates a studio or boot camp on his own or employs staff, each person who makes contact with potential clients should learn and understand this process.
"Every step of this recipe is important. My coaching clients ask 'but what is the most important step? I tell them – the one you're on – meaning EVERY step is important", comments Bedros. "I stress the importance of listening, excellent eye contact, and enthusiasm. These three things go a long way."
The seventh step in the art of selling fitness is closing the sale. Closing the sale includes six very important steps that EVERY trainer should have well-rehearsed. "It is a skill that requires strategic timing", claims Bedros.
On the website, PTPower.com Bedros provides a fitness studio formula where fitness professionals can view exact scripts of what to say during the close. It is in these scripts that Bedros teaches fitness professionals of all levels how to be the best assistant buyer and make the sell.
Trainers may be surprised at Bedros's technique revealed in the sixth step of closing the sale, which include the words "shut up, comfort, and smile." "Look, my methods have been proven time and time again", says Bedros. "Visit the site and see what many other fitness professionals have to say about these proven strategies."
Fitness professionals will find top notch personal trainer marketing strategies as well as proven methods for how to make the sell when they visit PTPower.com.
###
To find out more about Bedros Keuilian and his company PTPower.com, contact Bedros Keuilian on (800) 261-0208. Alternatively, you may use the contact form at http://ptpower.com/contact-me/ or send an email to Bedros Keuilian at support@keuilian.com.