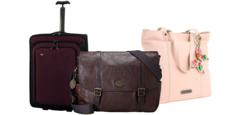 We believe bags are a statement piece and our selection allows each customer to express themselves as they choose.
Las Vegas, NV (PRWEB) January 23, 2013
Trend Nation LLC proudly announced the launch of their sixth online retail store, BagLane.com. BagLane.com made its debut just in time for the 2013 Outdoor Retailer show in Salt Lake City, Utah where top name brands in both men's and women's fashion apparel and outdoor accessories can take advantage of the opportunity to be a part of what will soon become the largest selection of bags on the planet.
Keenly aware of the increased sales of bags on both WalletNation.com and Silverhooks.com, two of Trend Nation LLC's most successful e-commerce properties, an effort was made to expand the selection of bags while building a customer friendly website focused on carrying the best and largest selection of bags at great prices. Focused exclusively on bags, BagLane.com specializes in all types of bags ranging from women's luxury handbags to travel luggage, kid's backpacks, men's briefcases and everything in between. The bags range in price starting as low as ten dollars and rising upwards of $500.
Founder Brad Howard saw a need for an all encompassing bag site and filled it, "We know that when a family is shopping for travel bags, for example, they are most likely looking for multiple items including a bag for mom, a bag for dad and bags for the kids. Rather than having to scour the internet through multiple sites to get all the items purchased, BagLane.com provides a solution. By carrying bags for men, women and children we provide a one stop shopping experience that allows you to find items for the whole family."
BagLane.com carries over one hundred of the top name brands of bags and handbags in hundreds of different styles in dozens of colors and materials. Already featuring exclusive luxury and popular brands such as Tumi, Ben Sherman, Puma, Robert Graham, Kenneth Cole, Betsey Johnson, BCBGeneration, and Calvin Klein, in addition to several other lesser known boutique brands, BagLane.com is able to offer them all for much lower prices than local retailers and smaller vendors can.
Bags have been around for centuries and have evolved through the years. A woman's handbag is not just a console to carry belongings, it is a statement piece representing her and her personality. A piece of luggage that was once a standard design in basic neutral colors now should stand out from the crowd. Advances have been made in men's fashion including messenger bags and briefcases from standard shapes in solid dark leather to playful shapes with interesting textured detail, shape and color.
Howard is proud of the wide selection and says that is what sets BagLane.com apart from the rest. "We know we're not the first to create a site for bags but we are the best. We plan on having the widest selection of bags in the market with a variety of brands and price ranges to choose from. We believe bags are a statement piece and our selection allows each customer to express themselves as they choose."
Howard knows that everyone is busy and does not have time to drop into one retail store after another looking for the perfect handbag for her, briefcase for him, and backpacks for the kids. BagLane.com combines the unique men's style of bags on WalletNation.com and the variety of women's bags from Silverhooks.com together to make shopping faster easier and more convenient for men and women alike. BagLane.com customers can easily find what they are looking for and take advantage of free shipping offered on a purchase of $60 or more while checking out securely. BagLane.com's customer satisfaction guarantee makes shopping online simple and stress free just the way shopping should be.
About Trend Nation LLC
Trend Nation, LLC, is a leading internet distribution house offering a superior selection of in demand products. With an emphasis on efficiently distributing product at a value price point and servicing customers in a global market, Trend Nation operates out of a 15,000 square foot facility in Las Vegas, Nevada. The eCommerce distribution house has grown at triple digit rates in the past 3 years and is on pace for another record year. Each company has a defined niche and target segment that is supported by its own website and distribution strategy. Current investments include: Cuffcrazy.com, Silverhooks.com, Crystalcase.com, ReusableRevolution.com & WalletNation.com.
All products and company names herein may be trademarks of their respective owners.