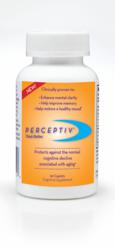 The stories we hear each day from their customers who are experiencing a difference in their brain health with PERCEPTIV are truly exciting.
Worcester, MA (PRWEB) January 24, 2013
Sevo Nutraceuticals, Inc. announced that it has added additional resellers to market and sell PERCEPTIV. Sevo launched PERCEPTIV in August 2012 and has been selling to consumers through select independent pharmacies and health food stores throughout the United States (http://www.thinkperceptiv.com/how-to-buy/).
Cognitive health is a critical health issue in the United States. It impacts the largest demographic in America—the Baby Boomers--who number 74 million, according to US Census data. Many fear losing cognitive function. Based on a report by the National Council on Aging, Americans are twice as fearful of losing mental capacity as having diminished physical ability and 60% of adults are very or somewhat worried about memory loss. This points to a growing need for readily available cognitive health products that are both safe and effective.
Brain health – from memory to focus to mood – is one of the most promising growth categories in nutrition according to Nutrition Business Journal. Eleven thousand people turn 60 every day and there is much in the news about cognitive function as people look for natural, scientifically proven products that may help them address their concerns.
PERCEPTIV, http://www.thinkPERCEPTIV.com, can be part of the solution. PERCEPTIV is a unique patents pending blend of six vitamins and clinically researched nutrients needed to maintain cellular health and vitality in the brain. The formula is the result of over 20 years of research and five published, independent clinical studies directed by the University of Massachusetts Lowell.
The unique formulation found in PERCEPTIV, Vitamin E, Folic Acid, Vitamin B12 and a Proprietary blend of N-Acetyl L-Cysteine, Acetyl L-Carnitine and S-Adenosyl Methionine (SAMe), has been shown to:

Protect against normal cognitive decline associated with aging
Improve list recall by more than 100%
Improve executive function by an average of 20%
Increase focus and concentration
Help restore a healthy mood
Provide effective cognitive enhancement in adults of all ages*
Sevo is currently sold in fifteen states and at authorized resellers and available online at http://www.thinkPERCEPTIV.com. Sevo welcomes our newest resellers to the PERCEPTIV™ family:
Apple Health Foods, Redwood City, CA
Clark Pharmacy, Cimarron, KS
Common Crow Natural Market, Gloucester, MA
Debra's Natural Gourmet, West Concord, MA
Gulf Shore Apothecary, Naples, FL
Health Foods Unlimited, Centerville, OH
Jolley's Sandy Compounding Pharmacy, Sandy, UT
Mac's Pharmacy - Knoxville & Powell, TN
Village Green Apothecary, Bethesda, MD
West Concord Pharmacy, Concord, MA
"We are very pleased with our growing active partners at leading independent pharmacies, health food stores and regional chains. The stories we hear each day from their customers who are experiencing a difference in their brain health with PERCEPTIV are truly exciting." said Steve Swenson, CMO of Sevo Nutraceuticals, Inc.
About Sevo Nutraceuticals, Inc.
Sevo Nutraceuticals was established in 2012 to license and market science-based nutraceuticals. Its vision is to become a market leader in highly efficacious, scientifically researched nutraceuticals that improve people's lives. The Company's mission is to build a select portfolio of high value products with clear markets which are leaders in their category.
Sevo's cornerstone product, PERCEPTIV™ was licensed from UMass Lowell in 2012 and was developed under the leadership of UMass Lowell Professor Thomas B. Shea, Director of the Center for Cellular Neurobiology and Neurodegeneration Research.