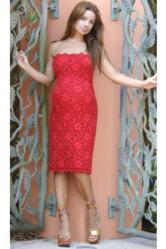 The Perfect Valentine Dinner Dress For The Expecting Mother!
(PRWEB) January 24, 2013
Valentine's Day Dinner Date? Check. Sassy shoes? Check. New maternity dress to knock the socks off daddy to be? No. Fabulous and maternity rarely go together when it comes to frocks but Bliss Baby & Maternity.com's got mama's belly covered when it comes to party apparel. Expectant mamas should embrace their beautiful bumps and show them off with flair and fashion. Dress it up in sequins, sashes or just a simple red or black dress. From pricey to affordable, the options are endless. Who's the mum in the red hot dress?
As a pregnant person, there is a usual sad situation known so well during wedding and holiday season's where there is a desperate search for a special occasion dress that doesn't look like a tent or a trash bag. Peruse the Bliss Baby and Maternity.com formal wear section and find the special occasion or cocktail dress that is maternity style. The dresses are sexy and stylish while showing off that beautiful glow of motherhood.
Valentin's Day is almost here and that means a special dinner date. During pregnancy, one wants to look and feel one's best so it is important to find a stylish and flattering maternity dress. There are many options available this year, ensuring there is something for everyone.
Everyone loves an LBD, as it works for a multitude of occasions and can easily be dressed up or down. One of the biggest trends this season is animal print, and it can easily be incorporated into one's wardrobe. Sexy and festive, black is always a perfect option to wear with black maternity tights, heels, and gold earrings for the perfect outfit.
Try out a sexy red lace dress this year and wait for the look on his face!
Lace is another beautiful holiday accent lace is sure to make one look and feel amazing! The lace can have a vintage feel is very flattering to enhance the baby bump comfortably while being elegant and classy.
While looking for the perfect dinner maternity dress, visit http://www.blissbabyandmaternity.com and look at the many beautiful dresses for a beautiful mother to be!